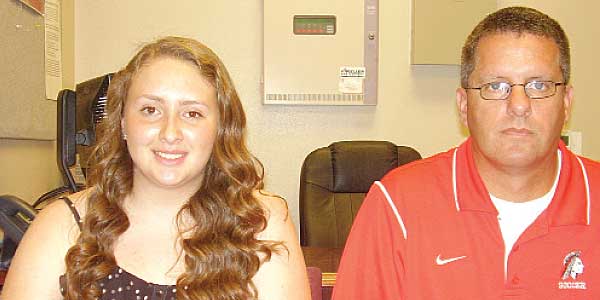 [tabs type="horizontal"][tabs_head][tab_title]English[/tab_title][tab_title]Español[/tab_title][/tabs_head][tab]Lydia Calderon was familiar with playing goalie when she became Fort Osage's starting varsity keeper in 2013.
It took time, however, for her to become comfortable with being a high school goalie. 
Calderon, whose father James is Mexican, started playing goalie in recreational league soccer, she recalled during a recent interview at Fort Osage High School. Andrew Fletcher, who coaches the Fort Osage boys and girls varsity soccer programs, had gotten to know Calderon through offseason camps and named her the Indians' starting keeper her freshman season. 
"(I learned) the pace of the game was different (than recreational league soccer)," she said. "It's a lot faster. It's a lot more invigorating."
After two seasons, Calderon is "comfortable with" the pace of high school soccer, she said. That sense of comfort has made the game "a lot more fun" for her.
"It's more exciting – and I get to do more and interact with the team more," Calderon stated. 
With Calderon comfortably tending the net, the Indians have posted winning seasons. They were 11-10-2 this season. They had to play through part of the campaign without her because of a concussion she suffered around midseason.
"It was hard, a little bit, coming back into the game …, knowing that I can get hurt and (I'm) not invincible," she said.
Looking to 2015 and 2016, Fletcher hopes Calderon's comfort level continues to improve and that she'll develop her reflexes and footwork. He also wants to see her be a commander on the field.
"The goalkeeper's a pretty important position because you can see the whole field – and Lydia's very quiet," Fletcher said. "So we're really working on her … directing the defense a little more and that kind of stuff."
One of the players under Calderon's command might be a relative: In 2015, her sister Isabel plans to play for Fort Osage.
[/tab][tab]Lydia Calderón estaba familiarizada con jugar como portera cuando se convirtió en la guardameta titular del equipo varsity del Fuerte Osage en 2013.
Sin embargo, le tomó tiempo sentirse a gusto con ser portera de la escuela preparatoria.
Lydia, cuyo padre James es mexicano, empezó a jugar en esa posición en una liga de fútbol recreativo, recordó durante una entrevista reciente en la preparatoria Fuerte Osage. Andrew Fletcher, quien entrena a los niños y niñas del programa varsity de fútbol, había conocido a Lydia a través de los campamentos de temporada baja y la nombró guardameta titular de los Indians en su temporada de novata.
"(Aprendí que) el ritmo del juego era diferente (que en la liga de fútbol recreativo)", dijo. "Es mucho más rápido. Es mucho más estimulante".
Después de dos temporadas, ella se siente "a gusto con" el ritmo del fútbol de preparatoria, refirió. Esa sensación de comodidad ha hecho el juego "mucho más divertido" para ella.
"Es más emocionante – y tengo la oportunidad de hacer más y de interactuar más con el equipo", afirmó.
Con Lydia atendiendo cómodamente la red, las Indians han colocado temporadas ganadoras. Estuvieron 11-10-2 esta temporada. Tuvieron que jugar a través de la campaña sin ella debido a una conmoción cerebral que sufrió alrededor de la mitad de la temporada.
"Fue duro, un poco, volver al juego …, sabiendo que puedo salir lastimada y  (que) no soy invencible", refirió.
De cara al 2015 y 2016, Fletcher espera que el nivel de confort de Lydia siga mejorando y que ella desarrollará sus reflejos y el juego de piernas. También quiere verla ser una líder en el campo.
"La portera es una posición muy importante, ya que puedes ver todo el campo —y Lydia es muy tranquila", comentó Fletcher. "Así que estamos trabajando realmente en ella … dirigiendo la defensa un poco más y ese tipo de cosas".
Una de las jugadoras bajo su comando podría ser una pariente: En 2015, su hermana Isabel planea jugar para el Fuerte Osage.
[/tab]
[/tabs]
by Shawn Roney