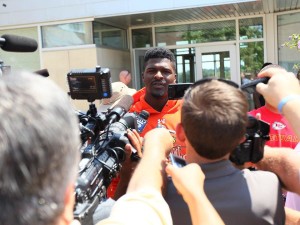 Today marks the first week for training camp for the Kansas City Chiefs as they begin training for the 201415 season.
Some of the players arrived Sunday in St. Joseph over the weekend to begin training. In a migration it always marks the beginning of the long anticipated NFL season players were seen with luggage arriving at the campus of Missouri Western.
Different this year is that coach Andy Reid is now in his second season with the team and anticipation is very high that the team will do well.  He indicated that he was very positive that the momentum from last year would help push the team to a new level this year.
I'm ready to go. I'm telling you. Like you guys are and the fans. There's just a certain feel you get around this time of year. It's time to roll. – Coach Andy Reid
One notable addition to the team's kicker Cairo Santos who is from St. Augustine Florida. He will be backing up Kansas City kicker Ryan Succop.
The first preseason game will take place August 7, with the Cincinnati Bengals playing the Chiefs at Arrowhead Stadium at 7pm.  Watch the game on CBS with radio on 101.1 FM or you can listen to all the Chiefs games in Spanish on La GranD 1340AM
2014 Schedule 
PRESEASON
1

 

AUG 7

 

7:00

PM

CDT

   

BENGALS

2

 

AUG 17

 

7:00

PM

CDT

 

)

 

AT

  

PANTHERS

3

 

AUG 23

 

7:00

PM

CDT

   

VIKINGS

4

 

AUG 28

 

6:00

PM

CDT

  

AT

  

PACKERS
REGULAR
1

 

SEP 7

 

12:00

PM

CDT

 

*

  

TITANS

2

 

SEP 14

 

3:25

PM

CDT

 

*

 

AT

  

BRONCOS

3

 

SEP 21

 

3:25

PM

CDT

 

*

 

AT

  

DOLPHINS

4

 

SEP 29

 

7:30

PM

CDT

 

+

  

PATRIOTS

5

 

OCT 5

 

3:25

PM

CDT

 

*

 

AT

  

49ERS

7

 

OCT 19

 

3:05

PM

CDT

 

*

 

AT

  

CHARGERS

8

 

OCT 26

 

12:00

PM

CDT

 

)

  

RAMS

9

 

NOV 2

 

12:00

PM

CST

 

*

  

JETS

10

 

NOV 9

 

12:00

PM

CST

 

*

 

AT

  

BILLS

11

 

NOV 16

 

12:00

PM

CST

 

)

  

SEAHAWKS

12

 

NOV 20

 

7:25

PM

CST

 

,

 

AT

  

RAIDERS

13

 

NOV 30

 

7:30

PM

CST

 

'

  

BRONCOS

14

 

DEC 7

 

3:05

PM

CST

 

*

 

AT

  

CARDINALS

15

 

DEC 14

 

12:00

PM

CST

 

*

  

RAIDERS

16

 

DEC 21

 

12:00

PM

CST

 

*

 

AT

  

STEELERS

17

 

DEC 28

 

12:00

PM

CST

 

*

  

CHARGER