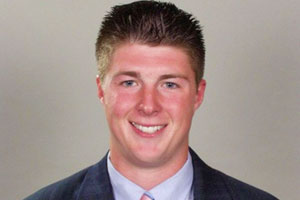 Corey Griffin, uno de los pioneros que ayudó a despegar el "Ice Bucket Challenge" viral, murió a la edad de 27 este pasado fin de semana tras un accidente de buceo.
El viernes por la noche, Griffin fue en la isla de Nantucket para un evento para recaudar fondos ALS donde ayudó a recaudar $100.000 para su amigo Pete Frates, que sufre de ALS y ayudó a la reciente campaña de recaudación de fondos ir viral.
A las 2 en la mañana del sábado, Griffin se zambulló de un edificio de "Straight Wharf" en el agua y pronto se ahogó. Según el informe policial, despuésde saltar, Griffin "flotan a la superficie", pero su cuerpo "luego pasó bajo el agua otra vez no volver a allanar".
Una salvavidas fuera de servicio trato de salvar a Griffin y recuperar su cuerpo del agua. Los oficiales hicieron CPR antes de Griffin fue llevado a un hospital local. Fue declarado muerto a las 3 de la mañana.
Mientras que Griffin no tiene una relación directa con la Asociación de ALS, el ALSA dijo en una declaración con respecto a su fallecimiento,"esto es una tragedia terrible y nos compadecemos a las familias de Griffin y Frates. Felicitamos a Corey por sus ejemplares esfuerzos paracrear conciencia y fondos para luchar contra ALS."
[divider]
ALS Ice Bucket pioneer dies after diving accident
Corey Griffin, one of the pioneers who helped get the viral ALS Ice Bucket Challenge off the ground, died at the young age of 27 this past weekend after a diving accident.
On Friday night, Griffin was in Nantucket Island for an ALS fundraiser where he helped raise $100,000 for his friend Pete Frates, who suffers from ALS and helped the recent fundraising campaign go viral.
At 2 a.m. in the morning on Saturday, Griffin dived off a building at Straight Wharf into the water and soon drowned. According to the police report, after jumping, Griffin "floated to the surface" but his body "then went under water again not resurfacing."
An off-duty lifeguard rushed to save Griffin and recovered his body from the water. Officers did CPR before Griffin was taken to a local hospital. He was pronounced dead at 3 a.m. that morning.
While Griffin didn't have a direct relationship with the ALS Association, the ALSA said in a statement regarding his passing, "This is a terrible tragedy and our hearts go out to the Griffin and Frates families. We commend Corey for his exemplary efforts for raising awareness and funding to fight ALS."