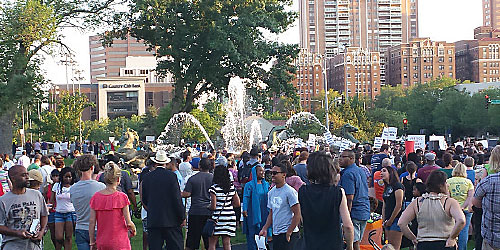 El 14 de agosto, cientos de ciudadanos de Kansas City, organizaron una manifestación civil pacífica en la fuente J.C. Nichols para protestar por la muerte de Michael Brown a manos de un oficial de policía de Ferguson, Missouri.
Pero ése no es el aporte local a una conversación nacional intensa sobre la cual todo el mundo habla.
El Departamento de Policía de Kansas City (Mo.) está investigando a uno de sus propios oficiales después de que una foto salió en los medios sociales cuestionando el carácter de Brown. El oficial Mike Catron publicó una foto que pretende mostrar a Brown con un fajo de billetes en su boca y una pistola apuntando a la cámara.
"Estoy seguro que el joven Michael Brown es inocente y solamente malinterpretado. Estoy seguro de que es un pilar de la comunidad de Ferguson", escribió Catron en la foto publicada en Facebook.
La fotografía que él publicó, en realidad mostraba a dos sospechosos en un homicidio de Orego — sin relación alguna con los acontecimientos en Ferguson.
Aunque la foto que colocó Catron confundiendo a un hombre negro (elegido aparentemente al azhar) con Brown no significa que la policía cree que todos los hombres afroamericanos se ven igual, es una forma disponible de interpretar la situación.
Antes de que la actividad de Catron en Facebook fuera de la competencia de su empleador, él estaba avivando las llamas al compartir un 'meme' que retóricamente preguntaba: "¿Recuerdas cómo los blancos se amotinaron después de la absolución de OJ? Yo tampoco".
Aunque no se compara directamente el indignante juicio de 1995, que llevó a la absolución de OJ Simpson de las acusaciones de asesinato de Nicole Brown Simpson y Ron Goldman, con el incidente de Ferguson, los comentarios provocan una conclusión.
La misma práctica de llegar a conclusiones se ha estado produciendo en una escala mayor desde que Brown fue asesinado el 9 de agosto. En el espacio donde debería haber una descripción puntual de los hechos y el nombramiento del sospechoso, se ha producido lo que sólo puede ser descrito como una estrategia de información confusa con dibujos que sólo nombraron recientemente al oficial de Ferguson que le disparó a Brown, Darren Wilson, de 28 años de edad, con seis años en el departamento.
Fuera de eso, hay un montón de ruido, tanto en el debate sobre la tragedia como en la ciudad que está siendo azotada por motines que han producido imágenes desgarradoras de la policía chocando contra manifestantes cada noche. La agitación ha burbujeado sobre el ciclo de noticias y, por último, las redes sociales, donde las actualizaciones sobre la investigación están escenificando motivos para adelantar opiniones privadas y, como en el caso de Catron, puntos de vista nocivos sobre la sociedad.
Mientras tanto las peticiones de justicia parecen llegar a oídos sordos ya que Wilson permanece fuera de la custodia policial y sigue recogiendo un cheque de pago mientras está en permiso administrativo.
[divider]
KCPD officer's post on Ferguson mirrors broader conversation
Commentary by Jesus Lopez-Gomez
On Aug. 14, hundreds of Kansas Citians staged a quiet, organized, civil rally at J.C. Nichols Fountain to protest the recent killing of Michael Brown by a Ferguson, Mo., police officer.
But that's not the local contribution to a heated national conversation that everyone's discussing.
The Kansas City (Mo.) Police Department is investigating one of its officers after a photo emerged on social media questioning Brown's character. Officer Mike Catron posted a photo purporting to show Brown with a wad of bills in his mouth and a gun pointed at the camera.
"I'm sure young Michael Brown is innocent and just misunderstood. I'm sure he is a pillar of the Ferguson community," Catron wrote on Facebook in the photo post.
The photo Catron posted actually featured two suspects in an Oregon homicide unrelated to the events in Ferguson. Although Catron's posted photo mistaking an apparently random black man for Brown doesn't mean that the police officer thinks all African-American men look alike, it's an available reading of the situation.
Before Catron's Facebook activity came under the purview of his employer, he was stoking the flames by sharing a meme that rhetorically asked: "Remember how white people rioted after OJ's acquittal? Me neither."
Although not directly comparing the 1995 trial that led to the acquittal of O.J. Simpson in the murder of Nicole Brown Simpson and Ron Goldman to the Ferguson incident, the remark makes an available conclusion.
This same sort of filling in the blanks has occurred on a grander scale since Brown was killed on Aug. 9. In the space where there should've been a prompt description of the events and the naming of the suspect, there has been what can only be described as a confusingly patterned information strategy that only recently named the Ferguson officer who shot Brown – Darren Wilson, a 28-year-old with six years on the force.
Outside of that, there is a lot of noise in both the discussion of the tragedy and the riot-wracked city that's producing harrowing images of the police clashing with protestors each night. The turmoil has bubbled over into the news cycle and, finally, social media, where updates on the investigation are staging grounds for advancing privately-held beliefs – and as in Catron's case, harmful views about society.
Meanwhile, the repeated calls for justice appear to be falling on deaf ears, as Wilson remains out of police custody and continues to collect a paycheck while on administrative leave.