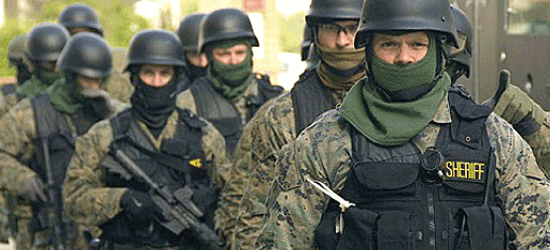 Siguiendo la intranquilidad reciente en Ferguson, Mo, la práctica del Departamento de Defensa de EE.UU. de suministrar armas y equipo de grado militar a la policía —conocido formal-mente como el programa 1033— está entrando bajo un mayor escrutinio en muchos niveles del gobierno.
Siguiendo el llamado del presidente Obama para analizar la creciente militarización de los departamentos de policía, el secretario de Defensa, Chuck Hagel, se reunió con los representantes de Missouri, Lacy Clay y Emanuel Cleaver II para discutir sobre lo que el mundo se ha enterado durante el último mes a través de las imágenes de choques entre la policía de Ferguson y los protestantes que están circulando en los medios sociales: la policía de nuestro país está lista para levantar las armas en contra de la ciudadanía.
Tanto Cleaver como Clay hicieron declaraciones felicitando lo que ellos llamaron una reunión productiva con Hagel, pero no reportaron cambios a las políticas.
El escrutinio comenzó después de que Darren Wilson —un policía de raza blanca que permanece como empleado asalariado del Departamento de Policía de Ferguson— le dispara mortalmente a Michael Brown, un adolescente negro que no portaba armas, bajo circunstancias que siguen sin aclararse. El Departamento de Justicia y el FBI están conduciendo una investigación sobre el incidente.
Aunque las respuestas siguen siendo evasivas, los ciudadanos de Ferguson han salido a las calles para expresar su desacuerdo —organización a la que la policía ha respondido con granadas de humo, rifles de asalto, rifles de francotiradores y chalecos antibalas de nivel de combate.
Según Obama, las agencias de policía locales han estado recibiendo equipo militar constantemente después de los ataques terroristas del 11 de septiembre bajo la presunción de prepararse para ataques terroristas subsecuentes —una estrategia que los legisladores como Rand Paul, están empezando a reconsiderar.
"Seguridad Nacional dio $8 millones a  Fargo para luchar contra el terrorismo en Fargo, Dakota del Norte. Y yo digo, si los terroristas llegan a Fargo, quizá sea mejor que nos rindamos", comentó Paul en el programa "Meet the Press" de NBC. "Digo esto como una broma, pero lo que quiero decir es ¿qué estamos haciendo gastando $8 millones en Fargo? ¿Qué estamos haciendo enviando un tanque? Hay un vehículo blindado para la transportación de tropas en Keene, New Hampshire".
[divider]
Reps from Missouri targeting police militarization
By Jesus Lopez-Gomez
Following the recent unrest in Ferguson, Mo., the U.S. Department of Defense's practice of furnishing military-grade weapons and equipment to law enforcement – formally known as the 1033 program – is coming under increased scrutiny at many levels of government.
Following President Obama's call to analyze the growing militarization of police departments, Defense Secretary Chuck Hagel met with U.S. Reps. Lacy Clay and Emanuel Cleaver II of Missouri to discuss what the world has learned over the past month through the images of clashes between Ferguson's police and protesters circulating on social media: Our nation's police is ready to raise arms against the citizenry.
Both Cleaver and Clay released statements lauding what they called a productive meeting with Hagel, but reported no policy changes.
The scrutiny began after Darren Wilson, a white officer who remains a paid Ferguson Police Department employee, fatally shot Michael Brown, an unarmed black teen, under circumstances that remain unclear. The Department of Justice and FBI are conducting an investigation into the incident.
Although answers remain elusive, the citizens of Ferguson have taken to the streets to voice their dissent – organization that the police have responded to with smoke grenades, assault rifles, sniper rifles and combat-grade body armor.
According to Obama, local law enforcement agencies have steadily received military equipment after the Sept. 11, 2001, terrorist attacks under the pretense of preparing for subsequent terrorist attacks – a strategy that lawmakers such as U.S. Rand Paul are beginning to vocally rethink.
"Homeland Security gave $8 million to Fargo to fight terrorism in Fargo, N.D. And I say, if the terrorists get to Fargo, we might as well give up," Paul said on NBC's "Meet the Press." "I say that as a joke, but I mean, it's like, what are we doing spending $8 million in Fargo? What are we doing sending a tank? There's an armored personnel carrier in Keene, N.H."