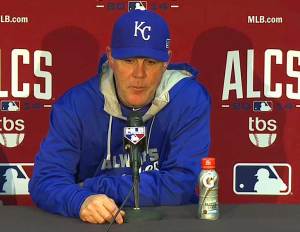 The Kansas City Royals are one win away from going to the World Series as they defeated the Baltimore Orioles in a low scoring game at Kauffman stadium.
The game which was delayed 1 day for rain, proved again that the Royal's solid pitching and defense were key in keeping the opportunities limited for the Orioles.
Mike Moustakas made a crowd pleasing catch near the 3rd base dugout seats where he said he "crowd surfed" to keep the ball.
Next game is Wednesday at 3pm at Kauffman Stadium.