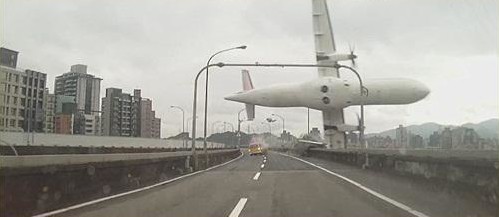 A Taiwanese flight with 58 people aboard clipped a bridge shortly after take off from Taipei on Wednesday, killing more than 20 people.
The number of fatalities from TransAsia Flight 235, which had 53 passengers and five crew members aboard, is expected to rise as teams of rescue workers in rafts attended the scene close to shore on the Keelung River.
Dashcam footage has emerged showing the moments before the plane crashed. The footage shows the ATR-72-600 prop-jet aircraft flying on its side, with one wing scraping past Taiwan's busy National Freeway No. 1 just seconds before it plunged into the river.
http://youtu.be/eJNAx4BsUtE