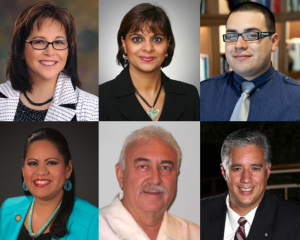 The 2015 Kansas LULAC State Convention is scheduled for April 11, 2015 in Topeka, Kansas. The central focus of the convention is to unify and strengthen communities, inform LULAC Councils of important community issues and strengthen educational and business relationships with Latinos from across Kansas.
Register by April 6th at: http://www.kansaslulac.org or https://2015kslulac.eventbrite.com
Festivities begin with Topeka LULAC Council hosting an evening social on Friday, April 10th, from 5:30 pm – 7:30 pm at Lupitas Restaurant – 732 S. Kansas Avenue – Tickets are $20.00 and are available online or by contacting Veronica Padilla at 785.249.2963.
The Convention is April 11th at Washburn Institute of Technology from 8:00 am to 2:30 pm. – Registration is $20.00 for members and $35 for non-members.
The convention keynote speaker is
Shawnee County District Court Judge, Cheryl Rios Kingfisher.
Additional convention speakers include:
Darryl Morin, Midwest Vice President, LULAC National;
Kansas Representative Ponka-We Victors, District 103;
Gene Chavez, President of Chavez & Associates through support by the Kansas Humanities Council;
Shaun Rojas, Kansas Community Leadership Initiative Manager, Kansas Leadership Center; and
Rekha Sharma-Crawford, Sharma-Crawford Attorney at Law LLC
The convention is sponsored by various supporting businesses and organizations, including: Kansas Hispanic Latino American Affairs Commission and GO Topeka Entrepreneurial and Minority Business Development. For more information contact, State Director, Michelle Cuevas-Stubblefield at 785.213.5543 or email: kslulac@gmail.com
About Kansas LULAC
Kansas has six councils across the State of Kansas, they include: Dodge City, Garden City, Kansas City, Liberal, Manhattan (K-State), Salina, and Topeka, Kansas. For or additional information about LULAC or to start a Council in your community contact Kansas LULAC, Michelle Cuevas-Stubblefield at kslulac@gmail.com or 785.213.5543.
About LULAC
The League of United Latin American Citizens (LULAC) is the nation's largest and oldest civil rights volunteer-based organization that empowers Hispanic Americans and builds strong Latino communities. Headquartered in Washington, DC, with 900 councils around the United States and Puerto Rico, LULAC's programs, services and advocacy address the most important issues for Latinos, meeting critical needs of today and the future. For more information, visit www.LULAC.org
https://www.facebook.com/LulacStateOfKansasOfficial