Georgia St. upsets Baylor in NCAA tournament and coach's reaction is awesome!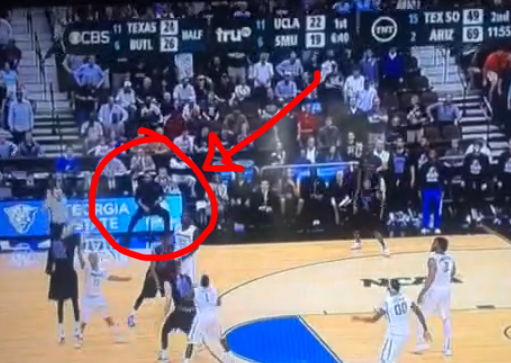 The NCAA tournament started today and one of the games getting lots of attention is the Georgia State (14) vs Baylor (3).  The game ended with a last second 3 point shot giving Georgia St. the win but the best reaction was the Georgia coach.  Watch video closely to see how he handled the upset.
The 3-pointer with 2.7 seconds remaining by RJ Hunter came at the end of a comeback from a 12-point under and lifted 14th-seeded Georgia State to a 57-56 opening-game victory over third-seeded Baylor in the NCAA Tournament.
With Ron Hunter, his father and coach, working the sideline in a rolling chair less than a week after tearing his left Achilles tendon celebrating the Panthers winning the Sun Belt Conference championship, R.J. came through when his team needed him most.
Chants of "R.J. 3, R.J. 3, R.J. 3" echoed from Panthers fans at the Jacksonville Veterans Memorial Arena.
Coach left the game unharmed.
 Check out full bracket information at NCAA.com
[divider]
El torneo de la NCAA comenzó hoy y uno de los juegos que consiguen mucha atención es el del Estado de Georgia ( 14 ) vs Baylor ( 3 ) . El partido terminó con un segundo tiro de 3 puntos dando  la victoria a Georgia St., pero la mejor reacción fue la del entrenador de Georgia .
Ver el video de cerca para ver cómo se maneja el malestar .
El triple llegó 2,7 segundos y fue hecho por RJ Hunter, el triple llegó al final de un regreso de ir abajo 12 puntos y levantó a Georgia State a una victoria de 57-56 sobre Baylor, tercer cabeza de la serie en el torneo de la NCAA .
Con Ron Hunter , su padre y entrenador , trabajando en una silla de ruedas, a menos de una semana después de desgarrarse el tendón de Aquiles izquierdo y celebrando a los Panthers que ganaron  el campeonato de la Conferencia Sun Belt, RJ llegó cuando su equipo más lo necesitaba .
Los cánticos de " R.J. 3 , R.J. 3 , R.J. 3 " hicieron eco de los fans por parte de los hinchas de las Panteras en la Arena Jacksonville Veterans Memorial.
El entrenador dejó el partido ileso .