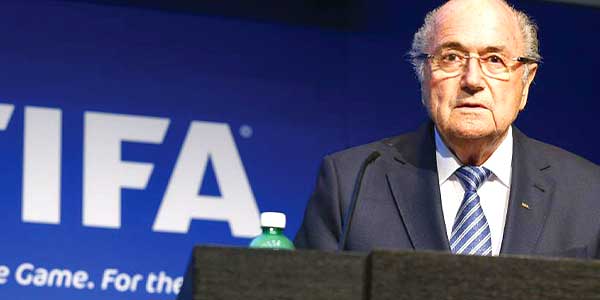 Renuncia Presidente de FIFA
La reelección de Sepp Blatter como presidente de la FIFA fue recibida con menos espectáculo que sus cuatro elecciones previas.
El quinto término de Blatter empezó tan sólo dos días después de que siete funcionarios de la FIFA — incluyendo dos vicepresidentes — habían sido arrestados por policías suizos por su papel en un escándalo de corrupción que sumó un total de $150 millones. El martes, 2 de junio, después de que oficiales estadounidenses confirmaron que estaban preparando un caso en contra del jefe de la FIFA, Blatter renunció a su puesto, terminando así con su permanencia 17 años en el cargo.
Agentes del orden público de Estados Unidos informaron que están trabajando con los individuos inicialmente acusados para preparar un caso en contra del Presidente de la FIGA.
La renuncia de Blatter no es inmediata. El consejo de administración tendrá que reunirse para elegir a un presidente antes de que el actual sea liberado de su puesto. Funcionarios de FIFA indicaron que la organización no tendría esa elección antes de diciembre de 2015.
Aunque Blatter no estuvo directamente involucrado en la acusación formal de 47 cargos que inculcó al personal ejecutivo de FIFA, su segundo al mando, Jérôme Valcke, fue identificado como un sospechoso clave en las transferencias de pagos bancarios que podrían ser sobornos conectados con las ofertas presentadas para el Mundial.
Las noticias de la investigación criminal de Blatter surgieron temprano el martes, con la renuncia de éste que llegó a la una de la tarde, hora local.
"Organizaré un congreso especial para mi reemplazo como presidente. No me quedaré", dijo Blatter a la prensa congregada el martes en una conferencia para anunciar su renuncia.
Domenicio Scala, jefe de un comité independiente de auditoría encargado de la revisión y reforma de la FIFA, prometió que el nuevo presidente del organismo rector del fútbol mundial se enfrentaría a medidas de cumplimiento más severas y a normas de anticorrupción más estrictas.
Agentes del FBI han indicado que los procesos de licitación que otorgaron a Rusia y a Qatar los juegos de las Copas Mundiales del 2018 y 2022, respectivamente, también serían sujetos al escrutinio.
La acusación proveniente del Fiscal General de Estados Unidos que fue abierta el 27 de mayo en Brooklyn, ha provocado lo que ha sido llamado como el escándalo más grande en los 111 años de  historia de la FIFA.
FIFA president resigns amid U.S. investigation
By Jesus Lopez-Gomez
Sepp Blatter's re-election as FIFA's president was greeted with less fanfare than his previous four elections to the office.
Blatter's fifth term began just two days after seven FIFA officials — including two vice presidents — had been arrested by Swiss police officers for their role in a corruption scandal totaling more than $150 million. On Tuesday (June 2), after U.S. officials confirmed they were building a case against the FIFA chief, Blatter resigned his post, ending a 17-year tenure.
U.S. law enforcement officials said they're working with the individuals initially indicted to develop a case against Blatter.
Blatter's resignation isn't immediate. The governing body will need to convene to elect a new president before the former head is relieved of his duties. FIFA officials indicated the organization wouldn't hold that election before December.
Although Blatter wasn't directly involved in the 47-count indictment that inculcated FIFA's executive staff, his second in command, Jerome Valcke, was identified as a key suspect in wire transfers of bank payments that might be bribes connected to World Cup bids.
News of Blatter's criminal investigation broke early Tuesday, with Blatter's resignation coming around 1 p.m. local time.
"I will organize (an) extraordinary congress for a replacement for me as president. I will not stand," Blatter told the press gathered at a conference called to announce his resignation.
Domenicio Scala, the head of an independent auditing committee charged with reviewing and reforming FIFA, promised the new president of world soccer's governing body would face stiffer compliance measures and more stringent anti-corruption rules.
FBI officials have indicated that bidding processes that awarded Russia and Qatar the 2018 and 2022 World Cup games, respectively, also would be subject to scrutiny.
The U.S. attorney general's indictment that unsealed on May 27 in Brooklyn, N.Y., has caused what's being called the biggest scandal in FIFA's 111-year history.