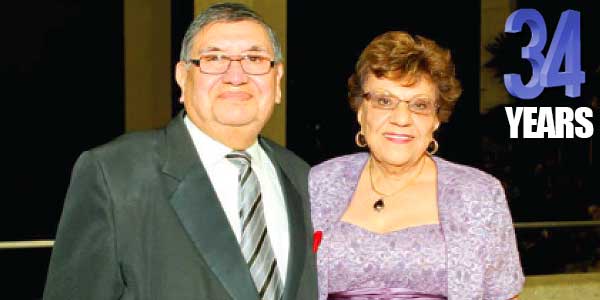 Celebrando 34 años sirviendo al área de KC
¡Felicidades Dos Mundos!
Cuando Clara y Manuel Reyes comenzaron Dos Mundos en 1981, no se dieron cuenta del alcance que su periódico hispano tendría.
Después de 34 años, Dos Mundos sigue sirviendo a la comunidad hispana del área de Kansas City. El periódico continua cubriendo los asuntos para los latinos, como la discriminación, esfuerzos para una reforma migratoria y las elecciones presidenciales, entre otros. Y la familia Reyes planea que esa cobertura permanezca por muchos años más.
No han sido 34 años fáciles para la familia Reyes. Cuando Clara lanzó el periódico para ayudar a brindar una voz para los hispanos del área, ella y Manuel se reunieron con las empresas para solicitar su apoyo. Algunos negocios no creían en él y no los apoyaron.
Afortunadamente, otros se apuntaron inmediatamente y favorecieron a Dos Mundos con publicidad. Gradualmente, Dos Mundos creció y para convertirse en uno de los periódicos hispanos más importantes en el medio oeste; y sirve como la columna vertebral del conglomerado de medios conocido como Reyes Media Group.
Con el tiempo, Dos Mundos ha experimentado muchos cambios. La sede sus oficinas, el personal y su contenido son algunos de esos cambios que vienen a la mente. Pero una cosa que no ha cambiado en 34 años es: el compromiso de la familia Reyes a servir a la comunidad hispana. Clara nunca ha renunciado a seguir con el periódico, a pesar de las dificultades que ha enfrentado. Y a lo largo del camino, ha contado con el apoyo de Manuel y sus hijos, Edward and Diana, quienes han trabajado en el negocio familiar desde que eran jóvenes.
El compromiso de Dos Mundos para cubrir las cuestiones locales, nacionales e internacionales que son importantes para los hispanos tampoco ha cambiado; y esperan que ese compromiso continúe mientras la familia Reyes maneje el periódico.
¡Feliz aniversario, Dos Mundos!
Celebrating 34 years of serving the KC area
Congrats, Dos Mundos!
Commentary by Chara
When Clara and Manuel Reyes started Dos Mundos in 1981, they didn't realize the reach their Hispanic newspaper would have.
After 34 years, Dos Mundos continues to serve the Kansas City area's Hispanic community. It continues to cover important issues to Latinos, including discrimination, immigration reform efforts and presidential elections, and more. And the Reyes family plans for that coverage to continue for many years to come.
It hasn't been an easy 34 years for the Reyes family. When Clara launched the newspaper to help give area Hispanics a voice, she and Manuel met with businesses to request their support. Some businesses didn't believe in it and didn't support the Reyes family.
Fortunately, others got on board immediately and supported Dos Mundos with advertising. Gradually, Dos Mundos grew to become one of the Midwest's most important Hispanic newspapers and serve as the backbone of the media conglomerate known as the Reyes Media Group.
Over time, Dos Mundos has experienced many changes. Changes in headquarters, personnel and content are a few that come to mind. But one thing hasn't changed in 34 years: the Reyes family's commitment to serving the Hispanic community. Clara has never stepped down from running the newspaper, despite the difficulties she has faced. And along the way, she's had support from Manuel and their children, Edward and Diana, who've worked in the family business since they were young.
Dos Mundos' commitment to covering the local, national and international issues that matter to Hispanics hasn't changed either. Expect that commitment to continue as long as the Reyes family runs this newspaper.
Happy anniversary, Dos Mundos!