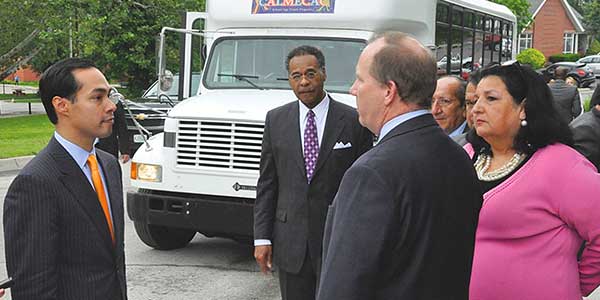 El  28 de mayo, el congresista estadounidense Emanuel Cleaver II y el secretario del Departamento de Desarrollo Urbano y Vivienda (HUD, por sus siglas en inglés), Julián Castro visitaron Posada del Sol, una instalación para personas de la tercera edad en el área de Westside Kansas City, Mo.
Cleaver habló con Castro sobre la necesidad de apoyo por parte de HUD para proyectos futuros de vivienda. Durante su visida, el Congresista aseguró que "seguiría luchando por el pleno financiamiento para los programas de HUD como los Subsidios Block de Desarrollo Comunitario y Vivienda de Apoyo para Ancianos (Programa de la Sección 202), el cual ha hecho una gran diferencia aquí en el 5º. Distrito de Missouri – y en todo el país".
"Incluso al mirar hacia atrás, nosotros miramos hacia el futuro para ver lo que podemos hacer para: reducir la desigualdad de ingresos; aumentar la eficiencia energética en el hogar; reducir la brecha digital en cada vecindario; y expandir el acceso a la vivienda para todos", dijo Cleaver según fue citado en un comunicado de prensa.
Posada del Sol tiene una población que es 70% hispana. La instalación residencial cuenta con 60 unidades que brindan un lugar seguro para vivir a individuos de 62 años y mayores. Las ofertas de Posada del Sol incluyen Internet inalámbrico gratuito para los residentes de bajos ingresos, clases de ejercicios y eventos sociales.
Cleaver and Castro visit Westside senior facility
By Chara, photo courtesy of Westside Housing Organization
On May 28, U.S. Congressman Emanuel Cleaver II and Department of Housing and Urban Development (HUD) Secretary Julian Castro visited Posada del Sol, a senior housing facility in Kansas City, Mo.'s Westside area.
Cleaver discussed with Castro the need for HUD support for future housing projects. During his visit, the congressman assured he would "keep fighting for full funding for HUD programs like Community Development Block Grants and Supportive Housing for the Elderly (Section 202 Program), which have made such a difference here in Missouri's 5th District – and around the country."
"Even as we look back, we look to the future to see what we can do to lessen income inequality, increase energy efficiency at home, bridge the digital divide in every neighborhood and expand access to housing for all," Cleaver was quoted in a press release as saying.
Posada del Sol has a population that's 70 percent Hispanic. The residential facility has 60 units that provide individuals ages 62 and older with a safe place to live. Posada del Sol's offerings include free wireless Internet for low-income residents, exercise classes and social events.