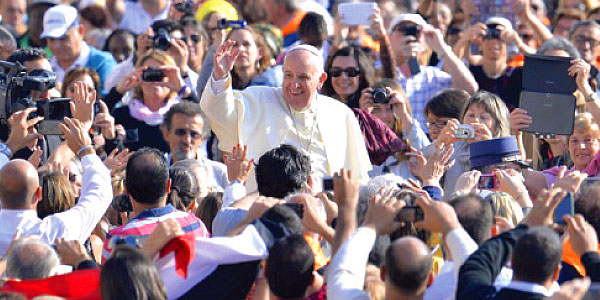 El papa Francisco ha iniciado su segunda gira por Latinoamérica.
El lunes 6 de julio durante su primera visita al Ecuador, el Papa celebró la misa en el parque de los Samanes en Guayaquil. Miles de personas recibieron felizmente al Pontífice.
Durante la misa, el Papa Francisco habló sobre la importancia que tiene la familia.
"La familia es el hospital más cercano, la primera escuela para los niños y el mejor hogar para los ancianos".
El papa Francisco fue citado por CNN diciendo: "La familia constituye la mejor capital social. No puede ser reemplazada por ninguna institución.
Después de la misa, el papa Francisco visitó un hospital y luego se reunió con varios líderes políticos y de la comunidad.
Se programó otra misa para el martes 7 de julio, de acuerdo con la Prensa Asociada.
La visita del Papa ha generado emociones en Latinoamérica. Desde su llegada, miles de personas se han reunido a lo largo de las carreteras para verlo. El periódico El Comercio reportó que miles de personas se acamparon a lo largo de las calles para ver al papa Francisco y para asistir a la misa del lunes. Algunas personas llegaron desde otros países, entre ellos Perú y Argentina.
Después de la visita al Ecuador, el Papa visitará Paraguay y Bolivia. Más tarde en este año, el Papa Francisco ha planeado visitar Cuba, seguido de una visita a Estados Unidos.
[divider]
Pope Francis visiting Latin America
By Chara
Pope Francis has started his second tour of Latin America. 
On Monday (July 6), during his first visit to Ecuador, the pope celebrated a Mass at Los Samanes Park in Guayaquil. Thousands of people happily received the pontiff.  
During the Mass, Pope Francis discussed the importance of family. 
"The family is the nearest hospital, the first school for the young, the best home for the elderly," Pope Francis was quoted by CNN as saying. "The family constitutes the best 'social capital.' It cannot be replaced by other institutions."
After the Mass, Pope Francis visited a hospital and then met with several political and community leaders. 
Another Mass was scheduled for Tuesday (July 7), according to the Associated Press.
The pope's visit has generated excitement in Latin America. Since his arrival, thousands of people have gathered along the highways to see him. The newspaper El Comercio reported that thousands of people camped along the streets to see Pope Francis and attend Monday's Mass. Some people came from other countries, including Peru and Argentina. 
Following the visit to Ecuador, the pope will visit Paraguay and Bolivia. Later on this year, Pope Francis has planned a visit to Cuba, followed by a visit to the United States.