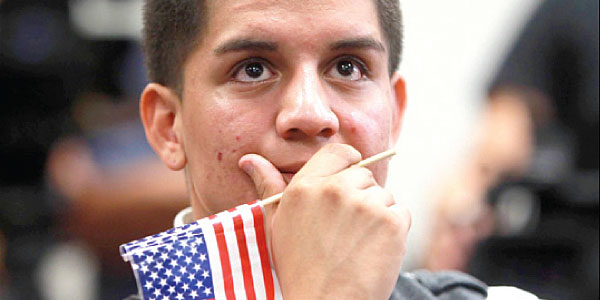 Los estudiantes inmigrantes indocumentados de edad universitaria son conocidos como Dreamers; típicamente cumplen con los requisitos de la Ley de Fomento para el Progreso, Alivio y Educación para Menores Extranjeros (DREAM por sus siglas en inglés), una legislación federal que el Congreso repetidamente ha fracasado en aprobar.
Asistir a instituciones de educación superior en Missouri, los Dreamers consistentemente avanzan con éxito, pero sus futuros académicos son inciertos. Los legisladores estatales alteraron ligeramente la terminología en el proyecto de ley de financiamiento de educación superior aprobado durante la reciente sesión legislativa. Los legisladores modificaron el lenguaje en el Proyecto de Ley  3 de la Camara en referencia a los Dreamers de "presentes ilegalmente" a "estatus de inmigración ilegal",
El cambio en las palabras se apunta específicamente a los estudiantes universitarios protegidos por el programa de Acción Diferida para los Llegados en la Infancia (DACA), instituido por una orden ejecutiva en junio del 2012. Si se implementa la HB 3, los Dreamers que residen y asisten a clases en Missouri tendrán que pagar colegiaturas más altas como estudiantes foráneos.
Pero el 30 de julio, el Gobernador Jay Nixon, mediante una declaración escrita proporcionada por el secretario de prensa Scott Holste a la Radio Pública de St . Louis, "El lenguaje en el artículo primero del proyecto de ley de la Cámara 3 (HB 3),  – o en el artículo primero de la ley de cualquier otra ley, – no es obligatorio desde el punto de vista legal ni es aplicable. Los estudiantes DACA han trabajado duro, cumplido con las reglas y se les ha dado un estatus por parte del gobierno federal. Negarles la oportunidad de recibir una educación universitaria asequible no es justo, ni es consistente con la ley estatal actual".
Y después de revisar el HB 3, el Departamento de Missouri de la Comisión de Educación Superior determinó que no le prohíbe a los Dreamers con estatus DACA de recibir tarifas de colegiatura como residentes estatales ni proporcionarles becas financiadas por el Estado, tales como las becas A+. En un memorándum el 23 de julio para los presidentes, rectores y directores universitarios, el comisionado David Russell escribió que el lenguaje en la HB 3 "no tiene autoridad legal para retirar las becas a los estudiantes que de otra manera serían elegibles".
Hasta ahora, Missouri ha estado entre 17 estados con leyes que permiten a los estudiantes indocumentados que califican, pagar colegiatura como residentes estatales en colegios públicos y universidades, de acuerdo con el Centro de Ley de Inmigración Nacional. Eso les da un descuento de colegiatura de $400 o más por crédito-hora para el año 2015 -2016. Para ilustrar el valor, los estudiantes universitarios dentro del Estado en la Universidad de Missouri -Kansas City pagan $371.69 por hora crédito para colegiatura y cuotas; los que no son residentes pagan $810.39.
Pero algunos legisladores de Missouri están dispuestos a negar el acceso a los Dreamers para descuentos en colegiaturas como residentes estatales y becas estatales. Ellos han amenazado las repercusiones financieras futuras para los colegios y universidades públicas que ignoran el lenguaje en el HB 3 y proporcionan becas y tarifas de colegiatura de residentes para los Dreamers. Es "un asunto de justicia" ellos insisten.
Los legisladores también reclaman que tienen suficientes partidarios en la Asamblea General para invalidar el veto del gobernador Dick Nixon de un proyecto de ley del Senado (SB 24) para limitar la elegibilidad para el programa A+ Scholarship para ciudadanos y residentes legales. El proyecto de ley fue aprobado por la Cámara y el Senado. Un voto para anular el veto podrá tomar lugar durante la sesión de veto 2015, el cual inicia el 16 de septiembre.
Los grupos de defensa para inmigrantes y educación y activistas estudiantiles están ejerciendo presiones para conservar el acceso de los Dreamers a tarifas de colegiaturas como residentes estatales y becas, y de hecho, muchos apoyan expandir los descuentos de colegiatura para cubrir entrenamiento vocacional y técnico. Negar acceso pone en peligro las contribuciones futuras por parte de profesionales de educación universitaria y una fuerza laboral entrenada profesionalmente cuya educación primaria y secundaria han financiado los contribuyentes en Missouri. Y no es solamente injusto, sino también es discriminatoriamente ilegal, ellos insisten.
---
A Missouri Dreamer's nightmare
Undocumented immigrant college-age students are known as Dreamers; they typically meet the requirements of the Development, Relief, and Education for Minors (DREAM) Act, federal legislation that Congress has repeatedly failed to pass.
Attending Missouri post-secondary education institutions, Dreamers consistently achieve, but their academic futures are uncertain. State lawmakers altered slightly the wording in the higher-education funding bill approved during the recent legislative session. Legislators modified the language in House Bill 3 in reference to the Dreamers from "unlawfully present" to "unlawful immigration status."
The change in wording takes specific aim at college students protected by the U.S. Deferred Action for Childhood Arrivals (DACA) program, instituted by executive order in June 2012. If H.B. 3 is enforced, Dreamers residing in and attending school in Missouri will have to pay much higher out-of-state tuition rates.
But on July 30, Gov. Jay Nixon said, through a written statement provided by press secretary Scott Holste to St. Louis Public Radio, "The language in the enacting clause of House Bill 3 – or in the enacting clause of any other bill – is not legally binding nor is it enforceable. DACA students have worked hard, played by the rules, and been given a status by the federal government. Denying them the opportunity to receive an affordable college education is not fair, nor is it consistent with current state law."  
And after reviewing H.B. 3, the Missouri Department of Higher Education Commission determined that it doesn't prohibit Dreamers with DACA status from being offered in-state tuition rates or awarded state-funded scholarships, such as the A+ scholarships. In a July 23 memo to college presidents, chancellors and directors, Commissioner David Russell wrote that the language in H.B. 3 "has no legal authority to withhold scholarship awards to otherwise eligible students."
Until now, Missouri's been among some 17 states with laws that allow undocumented students who qualify to pay in-state tuition at public colleges and universities, according to the National Immigration Law Center. That gives them a $400-plus-per-credit-hour tuition break for 2015-2016. To illustrate the value, in-state undergraduates at the University of Missouri-Kansas City pay $371.69 per credit hour for tuition and fees; non-residents pay $810.39.
But some Missouri lawmakers are keen to deny access for Dreamers to in-state tuition breaks and state scholarships. They've threatened future financial repercussions for public colleges and universities that ignore the language in H.B. 3 and award scholarships and resident tuition rates to Dreamers. It's "an issue of fairness," they insist.
Legislators also claim to have enough supporters in the General Assembly to override Gov. Nixon's veto of a Senate bill (S.B. 224) to limit eligibility for the A+ Scholarship program to citizens and legal residents. The bill was approved by the House and Senate. A vote to overrule the veto could take place during the 2015 Veto Session, which starts on Sept. 16.   
Immigrant and education advocacy groups and student activists are lobbying for preserving Dreamers' access to in-state tuition rates and scholarships, and in fact, many support expanding tuition breaks to cover vocational and technical training. Denying access jeopardizes future contributions by college-educated professionals and a professionally-trained workforce whose elementary and secondary education Missouri taxpayers have financed. And it's not only unfair, but illegally discriminatory, they insist.