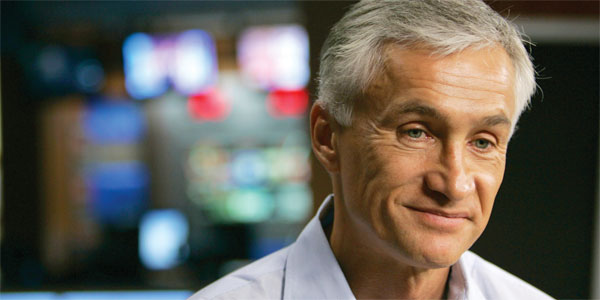 Apoyan a Ramos después de expulsión de conferencia de prensa
La expulsión del periodista de Univisión Jorge Ramos por parte del candidato republicano presidencial Donald Trump en una conferencia de prensa el 25 de agosto en Dubuque, Iowa ha indignado a periodistas, celebridades y público en general.
Ramos pensó que era su turno para hacer una pregunta y empezó con una pregunta sobre inmigración para el candidato. Trump le dijo que regresara a Univisión y se sentara. Posteriormente, Ramos fue expulsado (más tarde se le permitió regresar). Mientras que estaba afuera de la sala de la conferencia de prensa, un simpatizante de Trump le dijo a Ramos que abandonara el país.
Reaccionando a la expulsión, el artista Ricky Martin recientemente escribió declarando: "exijamos el respeto para aquellas… generaciones de latinos que llegaron a Estados Unidos y abrieron un camino para nosotros. Hemos luchado por todos los derechos que tenemos en la actualidad".
Otra celebridad que defendió a Ramos fue Alejandro Sanz. En su cuenta de Twitter, el cantante español dijo "quiero demostrar mi apoyo para @jorgeramosnews… es una vergüenza aprovecharse del poder para suprimir la libertad de… expresión).
@jorgeramosnews se volvió un tema popular en Twitter horas después del incidente. La gente por todo el país empezó a crear imágenes de Ramos con varias citas de apoyo. El usuario de Twitter @frankienegron dijo: "estamos contigo #JorgeRamos. Gracias por defender a los latinos y la libertad de prensa #FreedomOfThePress).
Además, el director general de Univisión hizo una declaración criticando la conducta de Trump.
"El señor Trump demostró un completo desdeño por Ramos y por el sinnúmero de hispanos a quienes Jorge trata de representar mediante preguntas de prensa que están en el corazón de la Primera Ley Americana", leía la declaración.
Ramos ha demostrado su aprecio por el apoyo diciendo que no se quedará sentado ni callado.
"Somos una multitud" declaró Ramos en su cuenta de Twitter.
__________________________________________________________________________________________________
People support Ramos following press conference ejection
By Chara
Republican presidential candidate Donald Trump's ejection of Univision journalist Jorge Ramos from an Aug. 25 press conference in Dubuque, Iowa, has outraged journalists, celebrities and people in general.
Ramos thought it was his turn to ask a question and started posing an immigration question to the candidate. Trump told him to go back to Univision and sit down. Then, Ramos was ejected (he was eventually allowed to re-enter). While outside the press conference room, a Trump supporter told Ramos to leave the country.
In reaction to the ejection, entertainer Ricky Martin recently wrote an op-ed piece, stating: "Let's demand respect for those … generations of Latinos who came to the United States and opened a path for us. We have fought for every right that we have today."
Another celebrity who stood up for Ramos was Alejandro Sanz. On his Twitter account, the Spanish singer tweeted, "I want to show my support to @jorgeramosnews…. It is a shame to take advantage of power to suppress freedom of … speech."
#JorgeRamos became a trending topic on Twitter hours after the incident. People from all across the country started creating images of Ramos with several support quotes. Twitter user @frankienegron tweeted, "We stand with you #JorgeRamos. Thank you for standing up for Latinos and for #FreedomOfThePress."
In addition, Univision's CEO issued a statement criticizing Trump's behavior.
"Mr. Trump demonstrated complete disregard for (Ramos) and for the countless Hispanics whom Jorge seeks to represent through press questions that are at the heart of the First Amendment," the statement read.
Ramos has shown his appreciation to people for their support by saying he won't sit down and be quiet.
"We are (a) multitude," Ramos stated on his Twitter account.