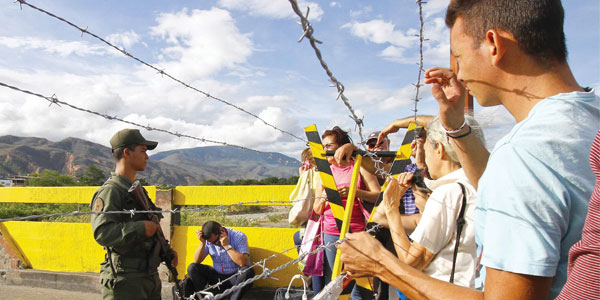 Venezuela cierra frontera con Colombia
El presidente venezolano Nicolás Maduro ordenó el cierre de la frontera con Colombia y deportó a más de 1,000 colombianos.
Durante la semana pasada oficiales venezolanos destruyeron casas donde vivían ciudadanos colombianos y los expulsaron de sus casas haciéndolos cruzar el río entre Colombia y Venezuela sin sus pertenencias.
Camila Henao, una colombiana que actualmente vive en Kansas City habló sobre su padre quién fue afectado por la decisión de Maduro.
"Mi papá trabaja en Auto Partes," dijo ella. "El es venezolano pero el resto de familia es colombiana y el vive en Cúcuta así que tiene que cruzar la frontera todos los días."
Según Heano, después del cierre, su negocio de auto partes ha bajado en demanda y muchos de sus trabajadores han renunciado.
"Después de que cerraron la frontera," dijo. "Él ha tenido que dormir en Venezuela, ha cruzado el río y muchos de sus trabajadores fueron deportados… Como familia nos afecta mucho porque la comunicación es mala y la seguridad es peor."
Por otro lado, el presidente colombiano Juan Manuel Santos está pidiendo ayuda a la comunidad internacional para arreglar este problema y según él, el gobierno venezolano está buscando una razón que no existe para culpar a Colombia por los problemas en Venezuela.
"Es evidente que la estrategia del gobierno venezolano es culpar a Colombia de todos sus males," dijo Santos. "Son tan absurdos, tan fuera de la realidad las acusaciones y señalamientos, que se caen de su propio peso."
Desde el cierre fronterizo más de 1,000 personas han quedado sin hogar, perdieron sus trabajos, y viven en refugios proporcionados por el ejército colombiano. Más de 300 niños venezolanos perdieron sus padres colombianos que fueron deportados.
__________________________________________________________________________________________________
Venezuela closes borders to Colombians
By Paula Alzate
Venezuelan President Nicolas Maduro recently ordered the closing of the 2,200 kilometer-long border with Colombia and deported more than 1,000 Colombian families.
Since the closing, some Colombians residing in Venezuela have been left homeless and jobless and have had to live in tents provided by the Colombian military. More than 300 children are considered lost.
In addition, Venezuelan officials have reportedly destroyed the homes of Colombian citizens. In expelling Colombians from their homes, Venezuelan officials have reportedly made the Colombians cross a muddy river and walk from Venezuela to Colombia with nothing.
Camila Henao, a Colombian resident living in the Kansas City area, said Maduro's decision directly affect her father.  
"My dad works in auto parts," Henao said. "He is Venezuelan, but the entire family is Colombian and he lives in Cucuta, so he has to cross the border every day."
According to Henao, after the border closing, her father's auto parts business has declined. Moreover, many of his workers have quit because of security issues.
"He has (had) to find … (a place) to sleep in Venezuela since his house is in Colombia," she said. "He has had to cross the river, and a lot of his workers were deported…. As a family, it (has) affected all of us. The communication is bad and the security is even worse."
However, Colombian President Juan Manuel Santos is seeking international intervention. According to Santos, the Venezuelan government is falsely blaming Colombians for Venezuela's problems.
"They are so absurd, so unrealistic – (these) allegations and accusations…. (They) fall under … (their) own weight," Santos said.