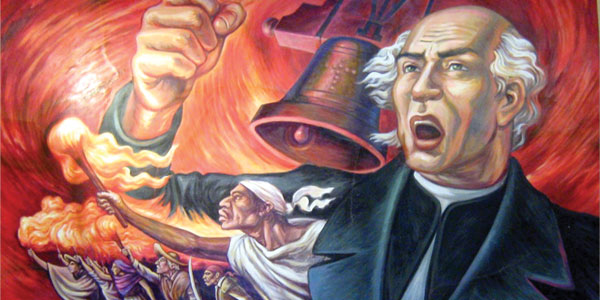 Celebrando 205 años de la Independencia mexicana
El 15 y 16 de septiembre la comunidad mexicana celebra el día de la independencia de México y muchos mexicanos recordarán el famoso Grito de Dolores pronunciado por el reverendo Miguel Hidalgo.
Los siguientes son algunos importantes – y divertidos- hechos acerca de la lucha de la independencia de México de España:
* La guerra por la independencia comenzó el 16 de septiembre de 1810 y se terminó el 27 de septiembre, 1821. Muchas figuras prominentes en la historia de México estuvieron involucradas como Agustín de Iturbide y Vicente Guerrero.
* El "Grito de Dolores" fue el primer símbolo de independencia. De acuerdo con varias fuentes, lo que hizo que el grito tan importante fueron las fuertes palabras del Padre Hidalgo: "Sabed, hijos míos, que el conocimiento de su patriotismo, me he puesto a la cabeza de un movimiento iniciado hace unas horas, para arrebatarle el poder a los europeos y dárselos a ustedes".
* Mientras que Hidalgo declaró la independencia de México de España, José Galván tocó las campanas de la iglesia local; sin embargo, según algunas versiones, Hidalgo fue quien toco las campanas de la iglesia.
* El grito fue pronunciado el 16 de septiembre sin embargo, el ex presidente de México, Porfirio Díaz empezó a conmemorar el acto el 15 de septiembre para celebrar su cumpleaños también. Es por eso que la comunidad mexicana comienza la celebración de la independencia desde la noche del 15 de septiembre y continúa todo el día el 16 de septiembre.
_________________________________________________________________________________________________
Remembering the "Grito de Dolores"
Celebrating 205 years of Mexican independence
By Paula Alzate
On Sept. 15 and 16, the Mexican community will celebrate Mexican Independence Day – and many Mexicans will commemorate it by recreating the famed "Grito de Dolores" ("Shout of Pain" in English) uttered by the Rev. Miguel Hidalgo.
The following are some important – and even fun – facts about Mexico's fight for independence from Spain:
*The war for independence began on Sept. 16, 1810. It ended on Sept. 27, 1821. Many prominent figures in Mexican history were involved, including Agustin Iturbide and Vicente Guerrero.
*The "Grito de Dolores" was the first symbolic declaration of independence. According to various accounts, what made the shout powerful were these words from Father Hidalgo: "Know this, my children, that knowing your patriotism, I have put myself at the head of a movement begun some hours ago, to wrest away power from the Europeans and give it to you."
*While Hidalgo declared Mexico's independence from Spain, Jose Galvan rang local church bells; however, according to some accounts, Hidalgo rang the church bells.
*According to some sources, the shout was uttered on Sept. 16. However, former Mexican President Porfirio Diaz began commemorating the shout on Sept. 15 to also celebrate his birthday. That's why the Mexican community starts commemorating the "Grito de Dolores" the evening of Sept. 15 and continues it all day on Sept. 16.