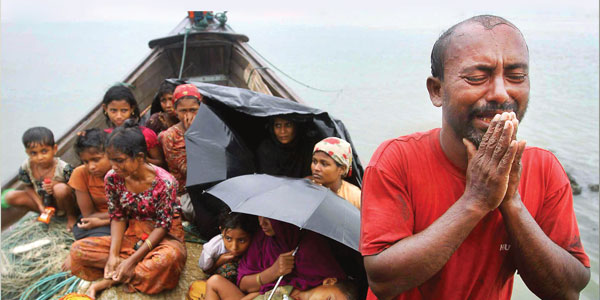 Guerra civil en Siria se está convirtiendo en desastre humano
Desde que se desató la guerra civil en Siria, más de 4 millones de refugiados han huido del país. El doble de ellos se ha visto forzado a mudarse a otras partes del país.
Esa es casi la mitad de la población total de Siria de 22 millones.
La reubicación de las masas ha creado uno de los desastres humanitarios más grandes  y desafiantes que haya visto el continente europeo.
Sus orígenes datan desde 2011, cuando los disturbios Arab Springs -protestas populistas que surgieron por el Medio Oriente – empezaron a emerger en Siria. La asamblea pacífica extendida contra el presidente sirio Bashar al-Assad se originó del desasosiego de antaño con la percibida falta de progreso político y un liderazgo nacional hostil hacia las libertades civiles.
En esencia, el gobierno respondió a las protestas declarando la guerra a los ciudadanos del país. La violencia contra las fuerzas del régimen de Assad, sus oponentes armados y más recientemente el Estado Islámico ha reclamado más de 220,000 vidas. De esas muertes, casi la mitad son civiles.
Recientemente, Rusia públicamente reclamó la participación militar en la guerra. La administración del presidente ruso Vladmir Putin está aliada estrechamente con Assad y está en la región persiguiendo a los objetivos del Estado Islámico. Por otro lado, Estados Unidos ha contribuido arsenal y otra ayuda para los grupos rebeldes que combaten a Assad.
En medio están atrapados los sirios intentando escaparse de su país listo para la batalla.
El problema de dónde deben ir los refugiados se ha convertido en un problema crítico. Aunque algunos países han tomado la postura con Israel y ha negado el alojo de los sirios, otros les han dado la bienvenida, entre ellos Alemania y Uruguay.
El papa Francisco ha dirigido a la Iglesia Católica romana a que abra sus localidades para los sirios. Los candidatos presidenciales Donald Trump y Martin O'Malley, quien fue un conferencista en la conferencia del Consejo Nacional de La Raza de este año en Kansas City, Missouri, ha hecho un llamado para que Estados Unidos -hogar de tres centésimas de un porcentaje de todos los sirios que huyen del conflicto de su país -le abra sus puertas a más refugiados por la crisis.
_________________________________________________________________________________________________
Syrian civil war turning into humanitarian disaster
By Jesus Lopez-Gomez
Since civil war broke out in Syria, more than 4 million Syrian refugees have fled the Middle Eastern country. Twice that many have been forced to move to other parts of the country.
That's about half of total Syria's population of 22 million.
The mass relocation has created one of the largest, most challenging humanitarian disasters the European continent has seen.
Its origins date back to 2011, when the Arab Spring uprisings – populist protests that emerged throughout the Middle East – started emerging in Syria. Widespread peaceful assembly against Syrian President Bashar al-Assad grew out of longstanding unrest with a perceived lack of political progress and a national leadership hostile to civil liberties.
In essence, the government responded to the protests by declaring war on the nation's citizens. Violence among Assad regime forces, his armed opponents and more recently the Islamic State has claimed more than 220,000 lives. Of those casualties, about half are civilians.
Recently, Russia publicly claimed military involvement in the war. Russian President Vladmir Putin's administration is closely allied with Assad and is in the region pursuing Islamic State targets. On the other hand, the United States has contributed weaponry and other aid to rebel groups battling Assad.
Caught in the middle are Syrians attempting to escape their embattled country.
The issue of where the refugees should go has become a flashpoint. Although some countries have taken position with Israel and denied fleeing Syrians quarter, others have welcomed the refugees, including Germany and Uruguay.
Pope Francis has directed the Roman Catholic Church to open its facilities to Syrians. Presidential candidates Donald Trump and Martin O'Malley, a speaker at this year's National Council of La Raza conference in Kansas City, Mo., have called for the United States – home to three-hundredths of a percent of the all the Syrians fleeing their country's conflict – to open its doors to more refugees from the crisis.