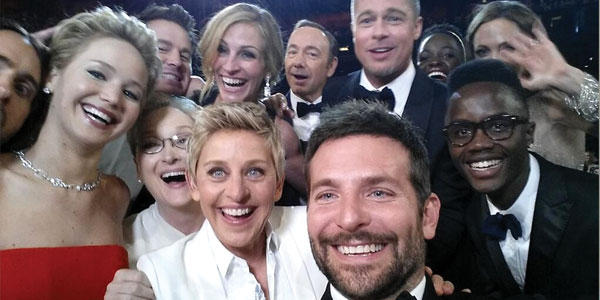 El mundo de los medios sociales está evolucionando constantemente- y con el la forma en que nos reflejamos.
Una tendencia que se ha vuelto muy popular es el autorretrato de la era digital, mejor conocido como "selfie." De acuerdo con un artículo publicado por The Guardian, selfies han hecho más populares después que los celulares inteligentes salieran al mercado, más específico en 2010 cuando el iPhone 4 fue introducido y traía consigo una cámara frontal.
El escritor estadounidense John Paul Titlow describió selfies como "un concurso de popularidad de la escuela secundaria con esteroides digitales" y dijo que las personas que se toman las selfies "están buscando algún tipo de aprobación de sus amigos y de la comunidad en general, que ahora gracias al internet es posible." Sin embargo, nada detendrá a la sociedad de seguir tomándolas.
Algunas selfies han alcanzado popularidad internacional. En el 2013, el astronauta japonés Aki Hoshide se tomó una selfie en el espacio que se volvió viral. Y durante la ceremonia de los Oscar en el 2014, Ellen DeGeneres se tomó una selfie con otras celebridades la cual fue vista por más de 37 millones de personas a nivel mundial; la foto se cree que tiene un valor entre $800 millones a $1 billón.
____________________________________________________________________________________________________
The world of "selfies"
Paula Alzate
The world of social media is constantly evolving – and with it, the way we reflect ourselves.
One trend that has become popular is the self-portrait of the digital age – a.k.a., the "selfie." According to a story in The Guardian, selfies became more popular after smartphones were introduced in 2010, specifically, the iPhone 4, which had a front-facing camera.
American writer John Paul Titlow has described selfies as "a high school popularity contest on digital steroids" and has said people who take selfies "are seeking some kind of approval from their peers and the larger community, which thanks to the Internet is now effectively infinite." However, nothing will stop society from taking them.
A few selfies have achieved international popularity. In 2013, Japanese astronaut Aki Hoshide took a selfie in space that went viral.  And during the 2014 Oscars ceremony, host Ellen DeGeneres took a selfie with other celebrities that was viewed by 37 million people worldwide. The photo is believed to be worth between $800 million and $1 billion.