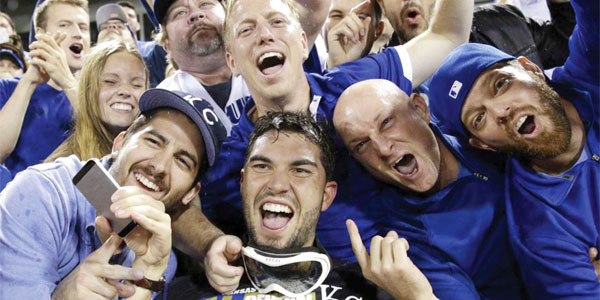 Estadio preparado para un posible I-70 Serie Mundial
Con menos de una semana restante en la temporada regular de la Liga Mayor de Béisbol, la posibilidad de otra I-70 de la Serie Mundial es cada vez más grande.
Los Royals de Kansas City y los Cardinals de St. Luis han asegurado las eliminatorias de las Grandes Ligas. La eliminatoria de Kansas City es como el campeón de la Liga Americana (AL) División Central – el primer titulo de la división en 30 años. En 1985, los Royals ganaron el titulo AL de la división del oeste y luego derrotaron la división AL del Este en el campeonato de Toronto. Ellos así mismo derrotaron a St. Luis en la Serie Mundial conocida como el "I-70 de la Serie Mundial," ya que la autopista interestatal 70 conecta las dos ciudades de Missouri.
Kansas City está haciendo su segunda aparición consecutiva en la postemporada. Los Royals llegaron a las eliminatorias en el 2014 como "comodín" de la liga. El club llegó a enfrentarse a San Francisco en la Serie Mundial, perdiendo los mejores siete de la serie 4-3, con los Giants ganando la final de la serie en Kansas City.
St. Louis recientemente aseguró una Liga Nacional (NL) en las eliminatorias. El miércoles 30 de septiembre los Cardinals jugaron doble cartelera con Pittsburg en Pittsburg. Al cierre de esta edición, el miércoles (30 de septiembre), los Cardenales estaban jugando una doble cartelera con Pittsburgh en Pittsburgh. Los dos juegos le ayudarán a determinar el campeón de la División Central. Al entrar en la doble cartelera, los Cardenales tenían una ventaja de cuatro juegos sobre Pittsburgh con cinco partidos de temporada regular restante.
Si los Piratas no logran superar a San Luis, todavía podrían llegar a la postemporada como comodín, junto con los Chicago Cubs, que también están en la División Central.
Los Cardenales están haciendo su cuarta aparición consecutiva en la postemporada. Su última aparición terminó cuando perdieron la Liga Nacional contra San Francisco.
Frias honorado por los T-Bones por su trabajo
Los Kansas City T-Bones – un equipo de Kansas City, con sede en Kansas afiliado a la Asociación Americana de Béisbol Profesional Independiente – recientemente nombro a Vladimir Frías como Jugador Defensivo del Año. De acuerdo con un comunicado de prensa del equipo, el nativo de República Dominicana ganó el honor – su segundo consecutivo – por llevar a los T-Bones en asistencias con 243. El porcentaje de Frias fue de 0.973, informó el equipo de béisbol.
____________________________________________________________________________________________________
Baseball briefs
Compiled by the Dos Mundos Sports Staff
Stage set for possible I-70 World Series rematch
With less than a week left in Major League Baseball's regular season, the possibility of another I-70 World Series looms ever larger.
The Kansas City Royals and St. Louis Cardinals have clinched major-league playoff berths. Kansas City's playoff spot is as the American League (AL) Central Division champion – the franchise's first division title in 30 years. In 1985, the Royals won the AL West title and then defeated AL East champion Toronto for the AL pennant. They went on to defeat St. Louis in the World Series, dubbed the "I-70 World Series" because Interstate Highway 70 connects the two Missouri cities.
Kansas City is making its second straight postseason appearance. The Royals made the 2014 playoffs as an AL wild card. The club went on to face San Francisco in the World Series, losing the best-of-seven series 4-3, with the Giants winning the series finale in Kansas City.
St. Louis recently clinched a National League (NL) playoff spot. At press time on Wednesday (Sept. 30), the Cardinals were playing a doubleheader with Pittsburgh in Pittsburgh. The two games will help determine the NL Central champion. Entering the doubleheader, the Cardinals held a four-game lead over Pittsburgh with five regular-season games remaining.
If the Pirates fail to overtake St. Louis, they'll still make the postseason as a wild card, along with the Chicago Cubs, who also are in the NL Central.
The Cardinals are making their fourth straight postseason appearance. Their last appearance ended with them losing the NL Championship Series to San Francisco.
Frias honored by T-Bones for glove work
The Kansas City T-Bones – a Kansas City, Kan.-based team affiliated with the American Association of Independent Professional Baseball – recently named Vladimir Frias as their Defensive Player of the Year. According to a team press release, the Dominican Republic native earned the honor – his second in a row – in part by leading the T-Bones in putout assists with 243. Frias' season fielding percentage was .973, the ballclub reported.