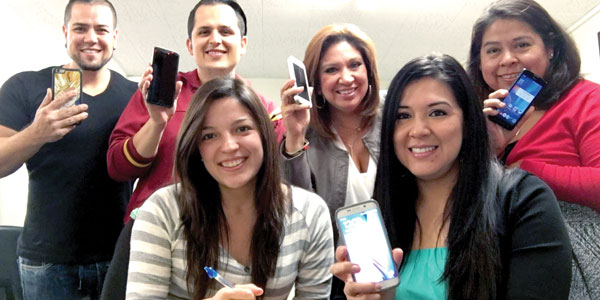 Dos Mundos realiza experimento de 'no uso de celular'
Un lunes común y corriente el equipo de Dos Mundos llegó a la oficina, sin embargo se dieron cuenta que iba a ser una semana diferente cuando vieron en la puerta un aviso que decía "Ambiente libre de celulares, por favor deje su celular en la mesa de adentro."
Las reacciones variaron, algunos de los miembros no sabían que no tenían sus celulares como la contadora Patricia Fuentes-Molina, mientras que otros llamaron a sus familiares para decirles que no iban a tener sus teléfonos por el día.
"Ah guay, sin avisar? Yo pensé era en una semana o dos," dijo María Rodríguez gerente de operaciones mientras entraba a la oficina.
El objetivo principal del experimento social era estudiar y entender el impacto del celular y el uso de las redes sociales durante las horas de trabajo.
Por cinco días, el equipo y cualquier persona que entrara a la oficina tenía que dejar sus celulares en una mesa.
El efecto fue diferente en cada persona, sin embargo, nos dimos cuenta que somos dependientes de estos- cada uno en una manera distinta.
"Quiero que me expliques esto," dijo Abel Pérez, diseñador gráfico. "¿ La siguiente vez va a ser sin computadoras o que?"
El primer día del experimento las notas se desbordaban de la libreta de todos los comentarios que se hicieron.
Diana Raymer, gerente general, riéndose sugirió hacer la reunión de todos los días en su oficina en vez de en la oficina de Dos Mundos.
"Oh boy," dijo desde la puerta. "¿No quieren venir a mi oficina?"
De acuerdo a Luis Merlo, diseñador gráfico, durante los primeros días pasamos más tiempo hablando acerca del celular que usándolo como tal.
Mientras que cada uno lo usa por diferentes razones, sentimos la necesidad de tenerlo con nosotros.
"Me olvidé de tomarme la pastilla a tiempo," dijo Rodríguez. "Tengo una alarma en el celular."
A mitad de semana, Pérez encontró la oportunidad de tomar su celular y pretender que lo había dejado en la mesa como los otros. Él le quitó el forro y lo puso sobre la mesa mientras que estaba en su escritorio trabajando con su celular al lado.
"Falta un teléfono aquí," dijo Jorge Moreno gerente de operaciones. Todos se rieron al ver que ninguno se había dado cuenta que Pérez tenía el celular con él todo el tiempo.
"Se me pasó la hora de la pastilla otra vez," dijo Rodríguez un par de veces más durante los restantes días del experimento.
Con el transcurso de la semana el equipo del periódico se dío cuenta de los efectos del celular en cada una de las personas. Mientras que Paula Alzate, Co editora, lo usa más que todo para las redes sociales y comunicarse por mensaje de texto con su familia y amigos, Raymer lo utiliza para hablar con sus hijas que estudian en universidades fuera de Kansas City, comunicarse con clientes, personal, y para ver las noticias. Rodríguez, por otro lado lo usa como alarma y comunicarse con clientes; y Fuentes-Molina dice usarlo para llamar a su familia, pero lo usa muy poco.
"Deberíamos cambiarlo a un mes," dijo Merlo con una risa. "Es una buena idea… pero no vuelvas a sugerirla."
Al terminar los cinco días, las notas sobre el experimento pasaron de hojas a renglones.
Algunos dijeron que fueron más productivos sin celulares y otros dijeron que no vieron ninguna diferencia. Raymer confesó que tenía una "adicción al celular" mientras que Fuentes-Molina y Merlo no sintieron ningún cambio.
Nos dimos cuenta que todos nos confiamos del celular y sentimos la necesidad de tenerlo con nosotros, sin embargo, también nos dimos cuenta lo bien que se siente dejar de un lado los celulares y desconectarnos por unas horas. Aún así, al final de la semana todos estaban felices de poder tener y usar sus celulares otra vez.
---
Dos Mundos conducts no-cellphone experiment
By Paula Alzate
A regular Monday morning The Dos Mundos team arrived to the office, though, they came to realize the week was going to be different when they saw a sign on the door: "Cellphone free environment, please leave your phones on the table inside."
The reactions varied, when some of them did not realize they had their phones like Patricia Fuentes-Molina, accountant, some others started calling their families to let them know they were not going to have theirs phones for the day.
"Oh shoot, no notice? I thought we had a week or two," said Maria Rodriguez operations manager, walking in the office.
The objective of the social experiment was to study and understand the impact of cellphone and social media use during working hours.
For five days, the team and anyone who entered the office was asked to leave their phones on a table.
The effect varied for each person, however we did realize we are phone dependent – each one in a different way.
"I want you to explain this," said Abel Perez, graphic designer. "Next time we come in we're going to work with no computers or what?"
The first day of the experiment notes overflowed from the reporter's note pad from all the comments were made.
Diana Raymer, general manager, humorously suggested to have the daily meeting in her office instead of the Dos Mundos office.
"Oh boy," she said at the door. "Don't you want to come to my office?"
According to Luis Merlo, graphic designer, during the first days, we spent more time talking about the phone than actually using it.
While everyone uses it for different reasons, we felt the necessity to have our phones with us.
"I forgot to take my medicine on time," said Rodriguez. "I have the reminder on my phone."
In the middle of the week, Perez found the opportunity to get his phone and pretend like he had put in on the table like anyone else. He removed the cover from his phone and faced it down on the table while he was on his desk working with it.
"There's a phone missing here," said Jorge Moreno, operations manager. Everyone laughed grasping we had not notice Perez had his phone the entire time.
"I missed my medicine again," said Rodriguez a few more times during the remaining days of the experiment.
 As the week went by the team started to realize the effect of cellphones in each member. While Paula Alzate, co editor, mostly uses it for social media and communicating over text with her family and friends, Raymer uses it to communicate with her two daughters who go to college away from Kansas City, communicate with clients, sales, and staff, and be up to date with news; Rodriguez uses it to remind herself to take the medicine and communicate with clients, and Fuentes Molina said she uses it to call her family but barely uses it.
" We should change it for a month," said Merlo with a laugh. "It is a good idea… but don't ever suggest it again."
By day five, notes regarding the experiment went from pages to a couple of lines. Some claimed they were more productive without their phone and some others said it didn't affect them. Raymer confessed she has a "cellphone addiction" while Fuentes-Molina and Merlo did not feel any change.  
We realized we rely on our phones on a daily basis and feel the necessity to have it with us, however, we also noticed how good it feels to leave our phones and disconnect for a few hours. Still, by the end of the week everyone was happy they were able to use their phones again.