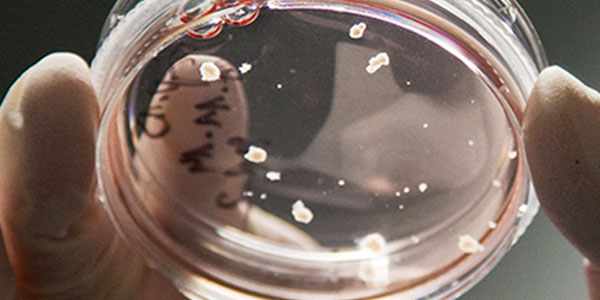 Un descubrimiento llamado "organoids" hecho por los científicos en la Universidad de Ohio quizás ayude a curar el cáncer, autismo y enfermedad de Alzheimer.
De acuerdo con CNN, los organoids son formados con tejido humano formado en platos Petri con células de la piel. Los tejidos tienen de 2 a 3 mm de largo y permitirán las pruebas de medicamentos que se están produciendo para combatir enfermedades principales.
Los organoids tienen la mayoría de las partes del cerebro humano. Al trabajar con organoids, los científicos han cultivado el 98 por ciento de las células que existen en el cerebro humano.
"La idea de utilizar estos "mini cerebros" como un terreno de pruebas para terapias podría ayudar a los médicos a encontrar los mejores tratamientos para pacientes individuales, al contrario del acercamiento "a todos por igual" que se usa con frecuencia actualmente", citó CNN al doctor Sanjay Gupta.
Las pruebas médicas no se han conducido para determinar si los organoids -los cuales se descubrieron después de 10 años de investigación -pueden curar el cáncer, autismo y enfermedad de Alzheimer. Sin embargo, los científicos esperan iniciar pruebas una vez que sientan que los organoids están totalmente desarrollados. Si las pruebas son exitosas, entonces los organoids podrían llevar a descubrimientos en tratamientos médicos en un período de cinco a 10 años.
"Necesitas tener este sistema en cientos de laboratorios estudiando estas diferentes enfermedades del cerebro y dejar que todos tengan la oportunidad", citó CNN al doctor Rudolph Tanzi, un científico que trabaja en la investigación.
---
Discovery might help cure cancer, autism and Alzheimer's
By Chara
A discovery called "organoids" by scientists at Ohio State University might help cure cancer, autism and Alzheimer's disease.
According to CNN, organoids are formed by human tissue grown in petri dishes from skin cells. The tissues are 2-3 millimeters long and will allow the testing of drugs being produced to fight major diseases.
Organoids have most of the parts of the human brain. In working with organoids, scientists have grown 98 percent of the cells that exist in a human brain.
"The idea of using these 'mini-brains' as a testing ground for therapies could help doctors figure out the best treatments for individual patients, as opposed to the 'one-size-fits-all' approach that is often used nowadays," Dr. Sanjay Gupta was recently quoted by CNN as saying.
Medical trials haven't been conducted to determine if organoids – which were discovered after 10 years of research – can cure cancer, autism and Alzheimer's. However, scientists are expected to initiate trials once they feel the organoids are totally developed. If the trials are successful, then the organoids might lead to breakthroughs in medical treatments within five to 10 years.
"You need to get this system into hundreds of labs studying these different brain diseases and let everybody take a shot at it," Dr. Rudolph Tanzi, a scientist working on the research, was quoted by CNN as saying.