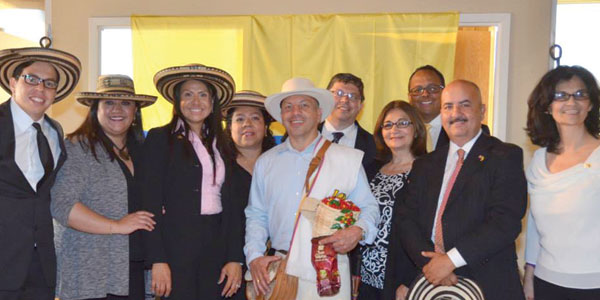 En el 2013 la asociación cultural colombiana (CCA) empezó con un objetivo: promover la cultura colombiana en el área de Kansas City.
Para ayudar a promoverla, la asociación organiza diferentes eventos durante el año incluyendo la fiesta del día de independencia, festivales latinoamericanos junto con el Johnson County (Kan.) Community College y la fiesta de fin de año. Su siguiente evento es la fiesta de Halloween que tendrá lugar el día 31 de octubre en Visions Reception Hall. Los tiquetes cuestan $15 y DJ y entretenimiento estarán presentes. El publicó está invitado a participar.
"Tenemos un DJ excelente que viene de Wichita," dijo Orlando Gutiérrez, presidente de la asociación. "Va a ser una velada chévere. La gente la pasará bien. Estamos esperando más o menos 400 personas."
Alrededor de 300-400 personas atienden a los eventos de CCA; Gutiérrez dice que quiere incentivar a la gente a que siga participando y apoyando la organización que tiene nueve personas en la junta directiva y más de 40 familias como miembros.
"La razón por la que la fundamos (la asociación) es la misma razón que nos mantiene hoy – presentar nuestra cultura, nuestra comida, nuestra música, nuestro país… nuestro propósito es mostrar la cultura colombiana a otras personas que no sean de Colombia," dijo él. "Sabemos que tenemos suficientes personas en el área que nos apoya y están dispuestos a venir a los eventos así que queremos tomar ese apoyo e impulsar y promover el país."
Adicionalmente, aparte de los eventos, la asociación proporciona becas a dos estudiantes excepcionales que son nativos o de descendencia colombiana.
"Ya hemos dado dos becas este año," dijo Gutiérrez. "Son utilizadas para estudiar en cualquier universidad del estado de Kansas y Missouri."
Para mas información acerca de la asociación y los eventos visite  http://ccamokan.org/Default.aspx.
________________________________________________________________________________________________
Colombian Cultural Association hosting Halloween Party
By Paula Alzate
In 2013, the Colombian Cultural Association (CCA) started with one objective: to promote Colombian culture in the Kansas City Area.
To help promote Colombian culture, the association hosts various events, including a celebration of Colombian Independence Day, a Latin American festival in junction with Johnson County (Kan.) Community College and an end-of-the-year party. Its next event is a Halloween party, scheduled for Oct. 31 at the Visions Reception Hall. Tickets are $15 and entertainment will be provided. The public is invited to attend.
"We will have an excellent DJ coming from Wichita," said Orlando Gutierrez, association president. "It's going to be a cool night. People will enjoy it. We're expecting around 400 people."  
On average, between 300 and 400 people attend the CCA's events. Gutierrez said he wants to encourage people to keep participating in the organization, which has nine people on its board of directors and more than 40 families as members.
"The reason we founded it (the association) is the same reason that keep us together today – to present our culture, our food, our music, our country… Our purpose is to show the Colombian culture to others who are not from Colombia," he said. "We know we have enough people in the area who support us and are willing to come to the events, so we want to take that support and promote the country."
In addition to its events, the association provides scholarships to two outstanding students that are of Colombian descent or Colombian natives.
"We have given two grants this year," Gutierrez said. "They are used to study in any university in the state of Missouri or Kansas."
For more information the association and its upcoming events, visit http://ccamokan.org/Default.aspx.