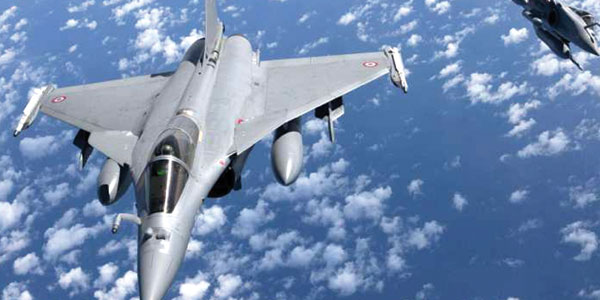 El lunes 23 de noviembre, el presidente francés Francois Hollande ordenó ataques aéreos en Siria e Irak contra ISIS.
Los ataques fueron lanzados desde el portador de aviones Charles De Gaulle. Francia anteriormente atacó a las fuerzas de ISIS, sin embargo es la primera vez que los franceses lo hacen mediante un portaaviones.
Los ataques se realizaron en respuesta a los recientes ataques terroristas de ISIS en París que mataron a más de 120 personas. Como consecuencia de esos ataques, varios países europeos han estado en alerta de posibles ataques terroristas.
Además, Hollande anunció que desea formar una coalición anti – ISIS con varios países, entre ellos Estados Unidos, Alemania y Rusia. ABC citó al presidente Hollande motivando a otros países a que unan sus fuerzas y "luchen este ejército terrorista en una coalición amplia e individual".
CNN reportó que Hollande planea reunirse con el presidente de Estados Unidos, Barack Obama, con la canciller alemana Angela Merkel, el presidente ruso Vladimir Putin. Los líderes políticos han dado a entender que estarían dispuestos a la idea de Hollande. Por ejemplo, el Consejo del Atlántico Norte de Embajadores que publicó recientemente una declaración diciendo que el Consejo lucharía contra el terrorismo a nivel mundial.
"Todos estamos, más que nunca, determinados a contraatacar y derrotar la amenaza del terrorismo y el extremismo", dijo la declaración. "Un número de aliados están ya trabajando con Francia en sus operaciones e investigaciones en curso como consecuencia de los ataques".
Las tácticas recientes de Hollande no han sido bien recibidas por personas tales como la residente de Kansas City, Kansas, Katie Solis quien piensa que los ataques aéreos podrían generar una guerra.
"Esto solamente va a generar más ataques contra Europa y Estados Unidos, y no estoy de acuerdo con la idea de que muera gente inocente", dijo Solís.
---
France attacks ISIS
By Chara
On Monday (Nov. 23), French President Francois Hollande ordered airstrikes in Syria and Iraq against ISIS.
The attacks were launched from the aircraft carrier the Charles De Gaulle. France has attacked ISIS forces before. However, this is the first time the French have done so via aircraft carrier.
The attacks were in response to ISIS' recent terrorist attacks in Paris that killed more than 120 people. In the wake of those attacks, several European countries have been on alert of possible terrorist attacks.
In addition, Hollande announced he wants to build an anti-ISIS coalition with several countries, including the United States, Germany and Russia. ABC quoted President Hollande as encouraging other countries to join forces and "fight this terrorist army in a broad, single coalition."
CNN reported that Hollande plans to meet with U.S. President Barack Obama, German Chancellor Angela Merkel and Russian President Vladimir Putin. Political leaders have suggested they would be open to Hollande's idea. For example, the North Atlantic Council of Ambassadors recently issued a statement saying the council would fight terrorism worldwide.
"We are all, more than ever, determined to counter and defeat the threat of terrorism and extremism," the statement said. "A number of allies are already working with France on their ongoing operations and investigations in the wake of the attacks."
Hollande's recent tactics haven't been well-received by people such as Kansas City, Kan., resident Katie Solis, who think the airstrikes might generate a war.
"This is just going to generate more attacks in Europe and the United States, and I don't agree with the idea of innocent people dying," Solis said.