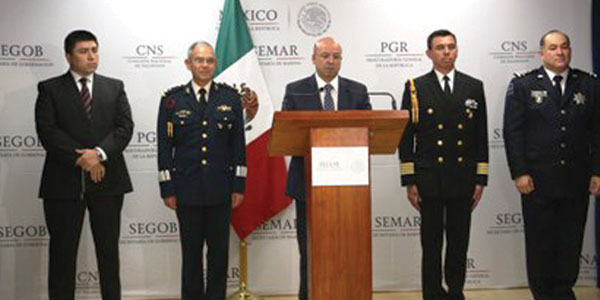 Las autoridades mexicanas arrestaron recientemente a Arturo Vázquez Terrazas, alias "El Cachorro" -por actividades relacionadas con la droga en México.
Vázquez terrazas, quien estuvo entre los 122 hombres más buscados en México, es acusado de encabezar el cártel de Juárez por varios años y por asesinato. De acuerdo con medios de comunicación mexicanos, el capo es bien conocido por su conducta violenta. Él es acusado de planear cientos de homicidios en Chihuahua.
Vázquez Terrazas estaba huyendo de las autoridades mexicanas cuando fue arrestado. Él había cambiado su identidad a Gerardo Estrada Rascón para intentar evitar ser capturado; sus áreas de labor criminal estaban en Casas Grandes, Galeana, Ignacio Zaragoza y Madero en el estado de Chihuahua.
Además de Vázquez Terrazas, las autoridades mexicanas también arrestaron a un miembro de la pandilla criminal Los Tilos, su identidad no ha sido revelada.
_________________________________________________________________________________________________________
Police arrest drug lord in Chihuahua
By Chara
Mexican authorities recently arrested Arturo Vazquez Terrazas – a.k.a., "El Chachorro" ("The Puppy" in English) – for drug-related activities in Mexico.
Vazquez Terrazas, who was among the 122 most wanted men in Mexico, is being accused of leading the Juarez Cartel for several years and of murder. According to Mexican media outlets, the drug lord is well-known for his violent behavior. He has been accused of planning hundreds of homicides in Chihuahua.
Vazquez Terrazas was avoiding Mexican authorities when he was arrested. He had changed his identity to Gerardo Estrada Rascon to try to avoid capture. His working areas were in Casas Grandes, Galeana, Ignacio Zaragoza and Madero in Chihuahua.
In addition to Vazquez Terrazas, Mexican authorities also arrested a member of the crime gang Los Tilos. The gang member's identity wasn't revealed.