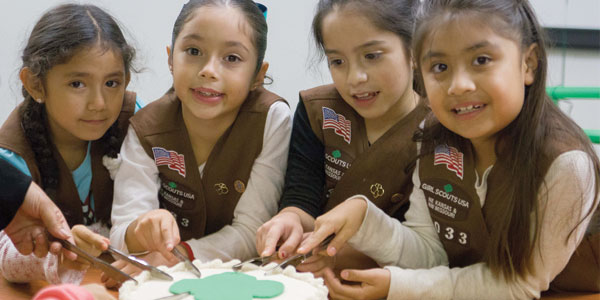 El 2 de diciembre, los miembros de la tropa Girl Scouts de América 1033 se reunieron en El Centro Inc. en Kansas City, Kan., para celebrar el primer aniversario de la tropa.
La celebración fue coordinada por Lisa Peña, representante de la iniciativa hispana de El Centro; y Norma Loya, líder de la tropa. La ceremonia incluyó a las Girl Scouts caminando por encima de un pequeño puente para simbolizar su transición a su siguiente nivel.
Las chicas continuarán aprendiendo acerca de la confianza, la valentía y el carácter a medida que avanzan a otros niveles de la organización, dijo Peña. Según Peña, esas características son los tres componentes principales de la misión de la tropa. Durante una actividad reciente, las niñas sostuvieron una larga cadena de hilo para representar la fuerza y ​ conexión que las mujeres y las niñas tienen la una por la otra, Loya recordó.
"Fue muy importante para mí, porque le enseñamos a las niñas la importancia de las cosas a través de actividades", dijo ella. "Queremos que ellas obtengan un significado de cada actividad que hacemos y (asegurarnos) de que obtengan valores personales en el camino."
Como primera tropa de habla española de la región, Pena y Loya quieren hacer Tropa 1033 un grupo de modelo para que otras tropas de habla española lleguen a otras comunidades que normalmente no pueden participar, dijo Peña. Tener una tropa que está dedicada exclusivamente a la comunidad de habla española seguirá manteniendo su patrimonio y la lengua viva, agregó.
Peña y Loya comentaron que la tropa tiene espacio disponible para más miembros que sean niñas asistiendo al primer y segundo grado.
Para aprender más acerca de las Girl Scouts de Kansas NE y NW Missouri, contacte a Elizabeth Reynosa llamando a El Centro al (913) 677-0100 o visite www.gsksmo.org o www.gsksmo.org/espanol.
---
Latin Girl Scout troop celebrates first anniversary
By Melissa Arroyo
On Dec. 2, members of Girl Scout Latin Troop 1033 gathered at El Centro Inc. in Kansas City, Kan., to celebrate the troop's first anniversary.
The celebration was coordinated by Lisa Pena (Peña in Spanish), El Centro's Hispanic initiative manager; and Norma Loya, troop leader. The ceremony included the Girl Scouts walking over a small bridge to symbolize their transition to their next level.
The girls will continue to learn about confidence, courage and character as they move to other levels in the organization, Pena said. According to Pena, those characteristics are the three main components of the troop's mission. During a recent activity, the girls held a long string of yarn to represent the strength and connection women and girls have for one another, Loya recalled.
"It was very significant for me because we teach the girls the significance of things through activities," Loya said. "We want them to get a meaning out of every activity we do and (make sure) that they pick up personal values along the way."
As the region's first Spanish-speaking troop, Pena and Loya want to make Troop 1033 a model group and pave the way for other solely Spanish-speaking troops to reach out to other communities that wouldn't normally get to participate, Pena said. Having a troop that's exclusively dedicated to the Spanish-speaking community will continue to keep their heritage and language alive, she added.
Pena and Loya stated the troop is accepting new girl members who are attending first and second grades.
To learn more about the Girl Scouts of NE Kansas & NW Missouri, contact Elizabeth Reynosa by calling El Centro at (913) 677-0100 or visit www.gsksmo.org or www.gsksmo.org/espanol.