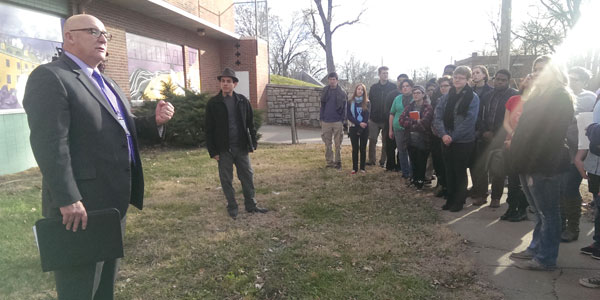 Photos and story by Melissa Arroyo
On Dec. 9, students from the Kansas City Art Institute's (KCAI's) illustration program, alongside instructor Hector Casanova Cinderhouse, unveiled their newest addition to the mural project at the vacant Scarritt Elementary School building.
The mural project is a collaborative effort by the Kansas City (Mo.) Public Schools and KCAI to beautify the community.
"One of the things we're trying to do in the school district is to reach out to the community and find resource-rich partners like the Kansas City Art Institute," said Allan Tunis, interim superintendent. "This (mural) goes beyond what's on the building; it's the partnership that will show others how you can make a better community with what you do."
Located at 3509 Anderson Ave. in Kansas City's Northeast neighborhood, the Scarritt Elementary building closed down in 2010. It soon lured vandalism, loitering and damage, which concerned members of the community.
Casanova Cinderhouse shared with the students how he came across the opportunity to help the community with art projects by knocking on doors persistently and encouraged his students to seek more opportunities in their future careers to give back to the community.
"One of the reasons I wanted us to work on this project is to show you guys how you can proactively change the world with your own artwork," Casanova Cinderhouse said. "It's something that a lot of us forget – or never realize. Some of the most exciting work you do does not come to you; it's the work that you actively seek."
The students then presented their mural project to the community at the Kansas City Museum to explain the symbolism behind the project and the overall experience working on each panel.
The institute will continue to contribute to this project in 2016.
---
Estudiantes de arte revelan reciente incorporación a proyecto de mural
El 9 de diciembre, los estudiantes en el programa de ilustración en el Kansas City Art Institute (KCAI), junto con el instructor Héctor Casanova Cinderhouse, dieron a conocer su más reciente adición al proyecto mural en el edificio vacante de la Escuela Primaria Scarritt.
El proyecto del mural es un esfuerzo de colaboración por las Escuelas Públicas de Kansas City (Missouri) y KCAI para embellecer la comunidad.
"Una de las cosas que estamos tratando de hacer en el distrito escolar es encontrar socios con recursos en la comunidad, como el Instituto de Arte de Kansas City", dijo Allan Túnez, superintendente interino. "Este (mural) va más allá de lo que está en el edificio; es la asociación que muestra a otros cómo se puede hacer una mejor comunidad con lo que uno sabe hacer ".
Ubicado en 3509 Anderson Ave. en el barrio North East de Kansas City, el edificio de la Primaria Scarritt cerró en el 2010. Consecuentemente, atrajo vandalismo, vagancia y daños, y preocupó a los miembros de la comunidad.
Casanova Cinderhouse compartió con los estudiantes cómo se encontró con la oportunidad de ayudar a la comunidad con proyectos de arte tocando puertas persistentemente y animó a sus estudiantes a buscar más oportunidades en sus futuras carreras de contribuir a la comunidad.
"Una de las razones por las que quería que trabajemos en este proyecto es para mostrarles  cómo se puede cambiar el mundo con sus propias obra de arte», dijo Casanova Cinderhouse. «Es algo que muchos de nosotros olvidamos – o nunca nos damos cuenta. Algunos de los trabajos más interesantes que haces no vienen a nosotros; es el trabajo que buscamos activamente «.
Después de la inauguración, los estudiantes presentaron su proyecto del mural a la comunidad en el Museo de Kansas City para explicar el simbolismo detrás del proyecto y la experiencia general trabajando en cada sección del mural.
El Instituto seguirá contribuyendo a este proyecto en el año 2016.