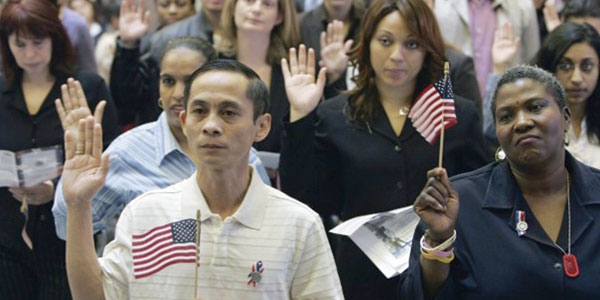 Según un estudio de la alcaldía de Nueva York, ciudades de los Estados Unidos se benefician de los inmigrantes que se convierten en ciudadanos estadounidenses.
"Los beneficios … que se reciben de ciudadanos estadounidense van desde un acceso a un grupo más amplio para los empleadores hasta el derecho a votar", afirma el estudio.
El estudio informa que las ganancias de los inmigrantes aumentan en un 8,9 por ciento después de la naturalización. Además, su tasa de empleo aumenta un 2,2 por ciento – y su capacidad para comprar una casa aumenta también.
Hay 8.8 millones de inmigrantes elegibles para la ciudadanía. Aunque muchos inmigrantes son elegibles para la ciudadanía, hay barreras culturales que les impiden hacerlo, incluyendo la falta de fluidez en Inglés, el costo del proceso de la ciudadanía y los lazos a su patria.
Muchas ciudades están ofreciendo programas para ayudar a los inmigrantes a solicitar y obtener la ciudadanía. En la ciudad de Nueva York, por ejemplo, el alcalde Bill de Blasio anunció recientemente que la ciudad pondría en marcha un programa para los inmigrantes para obtener la ciudadanía gratis. Además, de Blasio envió un mensaje a otros alcaldes sobre la importancia del impulso de la ciudadanía entre los inmigrantes.
"Los alcaldes de todo Estados Unidos pueden testificar: La naturalización es un mecanismo clave para el empoderamiento de las familias inmigrantes," de Blasio dijo en un comunicado de prensa. "Estas familias hacen contribuciones significativas a la economía y el paisaje cultural de una ciudad – y cuando tienen éxito, todos tienen éxito."
En el área de Kansas City, los inmigrantes pueden obtener ayuda para el examen de ciudadanía en el condado de Johnson (Kan.) La biblioteca-Oak Park, ubicada en 9500 Bluejacket en Overland Park, Kan. La biblioteca del condado de Johnson Antioch, ubicada en 8700 Shawnee Misión Parkway en Merriam, Kansas., también ofrece clases de preparación para la ciudadanía.
---
Economy benefits when immigrants become U.S. citizens, study shows
By Chara
According to a study from the New York Mayor's Office, cities across the United States benefit from immigrants who become U.S. citizens.
"The benefits … (of) receiving American citizenship range from access to a broader group of employers to the right to vote," the study states.
The study reports that immigrants' earnings increase by 8.9 percent after naturalization. In addition, their employment rate increases 2.2 percent – and their ability to buy a house increases.
There are 8.8 million immigrants eligible for citizenship. Although many immigrants are eligible for citizenship, there are cultural barriers that stop them from doing so, including a lack of fluency in English, the cost of the citizenship process and ties to their homeland.
Many cities are offering programs to help immigrants to apply for and obtain citizenship. In New York City, for example, Mayor Bill de Blasio announced recently that the city would launch a program for immigrants to get free citizenship. In addition, de Blasio sent a message to other mayors regarding the importance of promoting citizenship among immigrants.
"Mayors across America can attest: Naturalization is a key mechanism for empowering immigrant families," de Blasio stated in a press release. "These families make significant contributions to a city's economy and cultural landscape – and when they succeed, we all succeed."
In the Kansas City area, immigrants can get help for the citizenship exam at the Johnson County (Kan.) Library-Oak Park Library, located at 9500 Bluejacket in Overland Park, Kan. The Johnson County Library-Antioch Library, located at 8700 Shawnee Mission Parkway in Merriam, Kan., also offers citizenship preparation classes.
For more information about other locations, visit https://my.uscis.gov/findaclass.