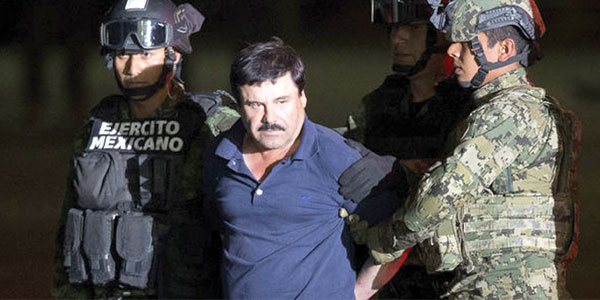 Autoridades enlazan aprehensión con actriz mexicana y actor americano
La búsqueda para capturar al narcotraficante mexicano Joaquín Guzmán Loera – alias "El Chapo", ha terminado.
Mediante una operación que se inició el 8 de enero a las 4:30 de la mañana en los Mochis, Sinaloa, México, los marines mexicanos capturaron a "El Chapo", quien se había escapado en julio del 2015 de una prisión mexicana de máxima seguridad. Durante la operación, murieron 5 personas y 6 fueron arrestadas. Las autoridades norteamericanas reportaron que tenían conocimiento de la operación, y en algún momento, habían contribuido a ayudar al gobierno mexicano en la búsqueda de Guzmán Loera.
Desde su escape de la prisión Altiplano en el Estado de México, Guzmán Loera había sido la persona más buscada en territorio mexicano.
El día de la captura, el presidente mexicano Enrique Peña Nieto fue citado por CNN: "El día de hoy, nuestras instituciones han demostrado una vez más que nuestros ciudadanos pueden tenerles confianza, y nuestras instituciones están al nivel que tiene la fortaleza y determinación de completar cualquier misión que se les otorgue".
Peña Nieto, quien también anunció el arresto mediante Twitter, esperaba poder cambiar la percepción negativa que tienen los mexicanos hacia él, al capturar a "El Chapo". Sin embargo, eso no sucedió; de hecho, millones de mexicanos siguen escépticos sobre el arresto del narcotraficante.
Horas después de la captura, la fiscal general mexicana Arely Gómez González realizó una conferencia de prensa anunciando que el deseo de "El Chapo" de tener una película sobre su vida fue lo que condujo al arresto.
"Guzmán se comunicó con los actores, actrices y productores para filmar una autobiografía", dijo la fiscal mexicana.
El lunes 11 de enero, CNN televisó la grabación de la redada que resultó en el arresto de "El Chapo" y reportó que él se había reunido en privado con el actor americano Sean Penn meses antes de su arresto para una extensa entrevista de una revista, como organizada por la actriz mexicana Kate del Castillo. La entrevista fue publicada en la revista Rolling Stone, la cual publicó contenido de la entrevista que se convirtió viral en los medios sociales. Además, en su sitio de Internet, la revista publicó 2 minutos de la entrevista.
Las autoridades mexicanas y americanas están investigando las conexiones de Guzmán Loera con Penn y del Castillo.
En otras noticias relacionadas con el narcotraficante, CNN reportó que había esfuerzos en el momento de prensa para que "El Chapo" fuera extraditado de México a Estados Unidos para enfrentar cargos.
---
"El Chapo" captured
Authorities link apprehension to Mexican actress, American actor
By Chara
The chase to capture Mexican drug lord Joaquin Guzman Loera – a.k.a., "El Chapo" – has ended.
Through an operation that started at 4:30 a.m. on Jan. 8 in Los Mochis, Sinaloa, Mexico, the Mexican navy captured "El Chapo," who had escaped in July 2015 from a maximum-security Mexican prison. During the operation, five people were killed and six were arrested. American authorities reported they were aware of the operation – and at some point, had contributed in helping the Mexican government search for Guzman Loera.
Since his escape from the Altiplano Prison in the state of Mexico, Guzman Loera had been the most wanted person in Mexican territory.
The day of the capture, Mexican President Enrique Pena Nieto (Peña Nieto in Spanish) was quoted by CNN as saying: "Today, our institutions have demonstrated one more time that our citizens can trust them and our institutions are at the level that has the strength and determination to complete any mission that is granted to them."
Pena Nieto, who also announced the arrest via Twitter, hoped he would change the negative perception Mexicans have toward him by capturing "El Chapo." However, that didn't happen. In fact, millions of Mexicans remain skeptical about the drug lord's arrest.
Hours after the capture, Mexican Attorney General Arely Gomez Gonzalez hosted a press conference, announcing that "El Chapo's" desire to have a movie made about his life had led to the arrest.
"Guzman contacted actors, actresses and producers to film an autobiography," the Mexican attorney general said.
On Monday (Jan. 11), CNN televised footage of the raid resulting in "El Chapo's" arrest and reported that "El Chapo" had met privately with American actor Sean Penn months before the drug lord's arrest for a lengthy magazine interview, as arranged by Mexican actress Kate del Castillo. The interview was published in Rolling Stone, which posted content from the interview that went viral on social media. In addition, on its Web site, the magazine posted two minutes of interview footage.
Mexican and American authorities are investigating Guzman Loera's connections with Penn and del Castillo.
In other news related to the drug lord, CNN reported that efforts were underway at press time to have "El Chapo" extradited from Mexico to the United States to face charges.