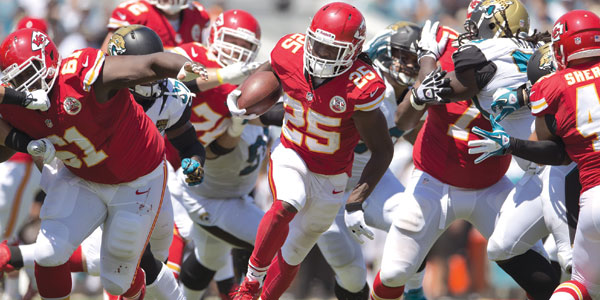 En un sentido, los New England Patriots son un oponente familiar a los Kansas City Chiefs.
En otro sentido, no lo son.
Los Chiefs, que enfrentarán a los Patriots en los playoffs de la AFC a las 3:35 pm, hora central el sábado 16 de enero en el Gillette Stadium, han jugado los Patriots 33 veces, de acuerdo con Pro-Football-Reference.com. Los dos equipos se enfrentaron primero el 18 de noviembre de 1960, en Boston. En ese momento, los Chiefs seguían a los Dallas Texans (se trasladaron y cambiaron su apodo en 1963) y los Patriots eran todavía los Patriotas de Boston. Boston ganó ese primer enfrentamiento, 42-14.
Ambas franquicias también estaban en el American Football League (AFL) cuando se conocieron. Ellos jugaron entre sí 17 veces antes de la fusión AFL-NFL en 1970. Desde 1970, cuando los Patriotas de Boston se convirtieron en los Patriotas de Nueva Inglaterra, que han enfrentaron 16 veces. El enfrentamiento más reciente fue en el 2014 – una paliza 41-14 en temporada regular por Kansas City en el Arrowhead Stadium. Nueva Inglaterra, sin embargo, pasó a ganar el Super Bowl XLIX y los jefes no logró llegar a las eliminatorias.
Pero como el escritor deportivo Randy Covitz del Kansas City Star señaló recientemente, todas las reuniones de la serie han sido durante la temporada regular. Los Chiefs establecieron su primera reunión en la postemporada con los Patriots por ganarle a los Houston Texans 30-0 el 9 de enero en Houston. Destacado por Knile Davis en una apertura de 106 yardas que regresó para un touchdown, los Chiefs mostraron su primera victoria en las eliminatorias desde 1994.
En una transcripción de una conferencia de prensa el lunes (11 de enero) en las instalaciones de entrenamiento del equipo, dijo el entrenador de los Chiefs Andy Reid de la victoria: "Todo el mundo tuvo la oportunidad de contribuir, desde los equipos comenzando fuera a la ofensiva y la defensa. Las (cinco) pérdidas de balón (que causamos) eran absolutamente enormes."
Con el enfrentamiento del sábado, los Chiefs se han enfrentado a todas menos a una de las franquicias de la AFL en la postemporada. Sólo los Bengals de Cincinnati quedan. Va a ser por lo menos 2017 antes de que los Chiefs y los Bengals se enfrenten en las eliminatorias: Cincinnati perdió ante Pittsburgh el 9 de enero en el otro partido de las eliminatorias de la AFC en la primera ronda.
---
Chiefs facing familiar foe in new situation
Compiled by the Dos Mundos Sports Staff
In one sense, the New England Patriots are a familiar opponent to the Kansas City Chiefs.
In another sense, they're not.
The Chiefs, who'll face the Patriots in the AFC playoffs at 3:35 p.m. Central Time on Saturday (Jan. 16) at Gillette Stadium, have played the Patriots 33 times, according to Pro-Football-Reference.com. The two teams first squared off on Nov. 18, 1960, in Boston. At that time, the Chiefs were still the Dallas Texans (they relocated and changed their nickname in 1963) and the Patriots were still the Boston Patriots. Boston won that first meeting, 42-14.
Both franchises also were in the American Football League (AFL) when they first met. They played each other 17 times before the AFL-NFL merger in 1970. Since 1970, when the Boston Patriots became the New England Patriots, they've faced off 16 times. The most recent meeting was in 2014 – a 41-14 regular-season trouncing by Kansas City at Arrowhead Stadium. New England, however, went on to win Super Bowl XLIX and the Chiefs failed to make the playoffs.
But as Kansas City Star sportswriter Randy Covitz noted recently, all of the series meetings have been during the regular season. The Chiefs set up their first-ever postseason meeting with the Patriots by thumping the Houston Texans 30-0 on Jan. 9 in Houston. Sparked by Knile Davis' 106-yard opening kickoff return for a touchdown, the Chiefs notched their first playoff victory since 1994.
In a transcript of a press conference on Monday (Jan. 11) at the team's training facility, Chiefs coach Andy Reid said of the win: "Everybody had an opportunity to contribute, from special teams starting it off to offense and defense. The (five) turnovers (we caused) were absolutely huge."
With Saturday's meeting, the Chiefs will have faced all but one of the former AFL franchises in postseason play. Only the Cincinnati Bengals are left. It'll be at least 2017 before the Chiefs and Bengals can meet in the playoffs: Cincinnati lost to Pittsburgh on Jan. 9 in the other AFC first-round playoff game.