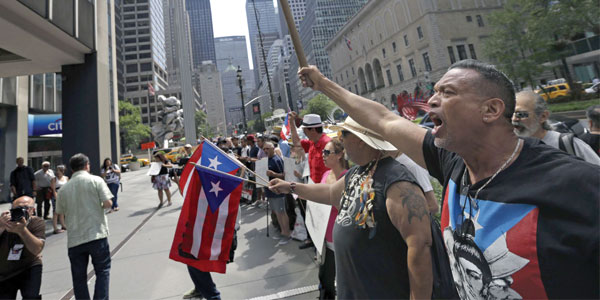 Frente a una deuda total de $ 72 mil millones, el territorio estadounidense de Puerto Rico está pasando por una crisis financiera que recibió la atención nacional en el 2015 y ha dejado a sus residentes luchando con problemas de empleo, educación y salud.
Los residentes de Puerto Rico están tratando de ayudar a la isla a cumplir con sus metas fiscales por el pago de impuestos de ingresos altos y el aumento de impuestos a las ventas. Sin embargo, la deuda asombrosa ha resultado en varios puertorriqueños abandonando la isla para encontrar puestos de trabajo en los Estados Unidos.
Debido a la crisis de la deuda, la tasa de desempleo en Puerto Rico ha alcanzado el 12.5 por ciento. El 4 de enero, se tomaron algunas medidas extremas para cumplir con las obligaciones de Puerto Rico, como tomar los ingresos de la autopista, centro de convenciones de la isla y las autoridades de autobuses.
Los funcionarios del gobierno de Puerto Rico están buscando en la reestructuración de su deuda mediante la presentación para el Capítulo 9 de bancarrota con el permiso de los Estados Unidos. Aunque la administración de Obama ha descartado proporcionar paquetes de ayuda a Puerto Rico, se espera que el Congreso de Estados Unidos tome medidas antes del 31 de marzo, según una declaración del presidente de la Cámara de Representantes Paul Ryan.
---
Congress to decide how to address Puerto Rico's debt crisis
Facing a total debt of $72 billion, the U.S. territory of Puerto Rico is undergoing a financial crisis that received national attention in 2015 and has left its residents struggling with employment, education and health issues.
Puerto Rican residents are trying to help the island meet its fiscal goals by paying high income taxes and increased sales taxes. However, the staggering debt has resulted in several Puerto Ricans leaving the island to find jobs on the U.S. mainland.
Because of the debt crisis, the unemployment rate in Puerto Rico has reached 12.5 percent. On Jan. 4, some extreme measures were taken to meet Puerto Rico's obligations, such as taking revenues from the island's highway, convention center and busing authorities.
Government officials in Puerto Rico are looking into restructuring their debt by filing for Chapter 9 bankruptcy with permission from the United States. Although the Obama administration has ruled out providing aid packages to Puerto Rico, the U.S. Congress is expected to intervene and take action by March 31, according to a statement by House Speaker Paul Ryan.