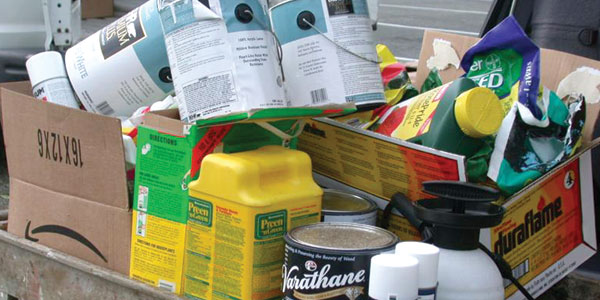 No toda la basura del hogar debe ser eliminado de la misma forma.
Varios artículos del hogar pueden contaminar el medio ambiente y afectar la salud humana si desechan de manera inadecuada. Según la Agencia de Protección Ambiental, productos para el hogar sobrantes que contienen ingredientes tóxicos, inflamables o reactivos se consideran residuos peligrosos del hogar.
Algunos de estos productos incluyen pinturas, diluyentes de pintura, productos de limpieza, aceites, baterías, pesticidas y algunos productos de belleza. Deben ser eliminados adecuadamente para evitar contaminar los arroyos y ríos. La eliminación inadecuada incluye verter por el desagüe, en el suelo, en las alcantarillas de tormenta y a veces en el cubo de la basura.
Gobiernos de la zona de Kansas City ofrecen servicios de recolección de residuos peligrosos a sus residentes de forma gratuita. Algunos sitios de recolección son los siguientes:
Kansas
* Condado de Wyandotte
Dirección: 2443 S. 88o St. en Kansas City
Teléfono: (913) 573-5318
* Condado de Johnson (Llamar para hacer cita)
Dirección: 5901 Jim Bills Road en Misión
Teléfono: (913) 715-6900
* Olathe (Llamar para hacer cita 24 hrs antes, disponible para todos los residentes del Condado de Johnson)
Dirección: 1420 S. Robinson Drive
Teléfono: (913) 971-9311
* Condado de Douglas (Llamar para hacer cita)
Teléfono: (785) 832-3030
Misuri
*Ciudad de Kansas
Dirección: 4707 Deramus
Teléfono: (816) 513-8400
* Cumbre de Lee (Llamar para hacer cita)
Dirección: 2101 S. E. Hamblin
Teléfono: (816) 969-1805
Día de colección y horas de operación pueden variar. Para confirmar, llame al sitio de disposición.
Si su área de residencia no está en la lista, póngase en contacto con su gobierno local o visite su sitio Web para obtener más información.
---
Not all household trash should be disposed of the same way.
Several household items can pollute the environment and affect human health if disposed of improperly. According to the Environmental Protection Agency, leftover household products containing toxic, flammable or reactive ingredients are considered household hazardous waste.
Some of those products include paints, paint thinners, cleaners, oils, batteries, pesticides and some beauty products. They should be disposed of properly to avoid polluting streams and rivers. Improper disposal includes pouring them down the drain, on the ground, into storm sewers and sometimes in the garbage bin.
Kansas City area governments provide hazardous waste collection services to their residents for free. Some area collection sites include the following:
Kansas
*Wyandotte County
Address: 2443 S. 88th St. in Kansas City
Phone: (913) 573-5318
*Johnson County (appointment only)
Address: 5901 Jim Bills Road in Mission
Phone: (913) 715-6900
*Olathe (24-hour advance appointment only, available to all Johnson County residents)
Address: 1420 S. Robinson Drive
Phone: (913) 971-9311
Missouri
*Kansas City
Address: 4707 Deramus
Phone: (816) 513-8400
*Lee's Summit (appointment only)
Address: 2101 S.E. Hamblin
Phone: (816) 969-1805
*Douglas County (appointment only)
Phone: (785) 832-3030
Collection days and hours of operation may vary. To confirm, call the disposal site.
If your area of residency isn't listed, contact your local government or visit its Web site for more information.