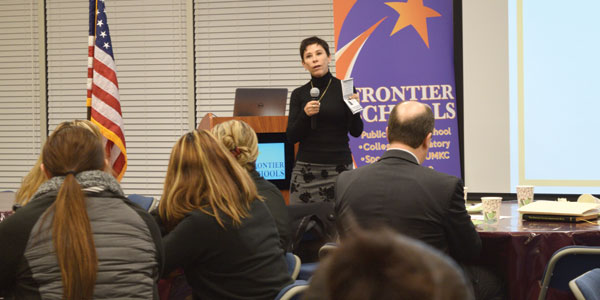 El 28 de enero, las ecuelas de Frontier dieron la bienvenida a Alicia Kerber, cónsul del Consulado de México en Kansas City, Mo., como invitada a la series de conversación de proyección exterior con líderes de la comunidad.
Como parte de las nuevas charlas mensuales, Kerber educó al público discutiendo los servicios que el consulado ofrece a los mexicanos y sus hijos. Después de su discurso, los padres y los estudiantes que se reunieron en el Centro de Participación Estudiantil de las escuelas Frontier tuvieron tiempo para hacerle preguntas.
"Nosotros … queríamos que nuestros padres sepan… que si algún día están en una situación difícil, que tienen el apoyo y la protección del consulado", dijo Jennifer Watson, asistente ejecutiva y coordinadora de relaciones públicas de las escuelas Frontier.
Watson dijo que la cónsul mantuvo a la audiencia motivada al comunicarse en Inglés y Español.
"Los padres valoraron que ella estuviera ahí", dijo Watson.
Según Watson, la Serie de charlas está diseñada "para educar no sólo a los niños sino (también) a nuestros padres y … (mantenerlos) vinculados con la comunidad". Para obtener más información acerca de la serie de conferencias y el sistema escolar de Frontier en general, visite www.frontierschools.org.
---
Mexican consul speaks to Frontier students and parents
By Paula Alzate
On Jan. 28, Frontier Schools welcomed Alicia Kerber, head consul for the Mexican Consulate in Kansas City, Mo., as a guest for Frontier's Outreach Talk Series with Community Leaders.
As part of her talk for the new monthly series, Kerber educated the audience by discussing the services the consulate provides Mexican nationals and their children. Following her speech, the parents and students who gathered in the Frontier Schools Student Engagement Center were permitted time to ask her questions.
"We … (wanted) our parents to know …, if they're ever up against something, that they do have the support and protection of the consulate," said Jennifer Watson, Frontier Schools executive assistant and district public relations coordinator.
Watson said the consul kept the audience engaged by communicating in English and Spanish.
"Parents valued her being there," Watson stated.
According to Watson, the Outreach Talk Series is designed "to educate not only our students, but (also) our parents and … (keep) them connected to the community." For more information about the lecture series and the Frontier school system in general, visit www.frontierschools.org.