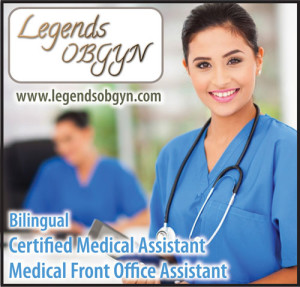 Bilingual Full-Time Medical Front Office Assistant
Legends OB/GYN is currently searching for a bilingual Front Office Assistant that is dependable, self-motivated, detail oriented and able to provide excellent customer service.
Job Duties include, but are not limited to:
Greeting  patients along with other visitors with a positive attitude
Willingness to go above and beyond to make sure anyone that walks through our doors receives a positive experience and feels welcomed
Strong oral and written communication skills
Obtaining patient information and accurately putting it into the patients chart
Collecting co-pays and balances
Processing credit card payments when necessary
Ability to answer multi-line phones and schedule appointments while obtaining all required information
Routinely checking and updating patient information
Verifying insurance
Ability to use a fax machine as well as clear faxes and place them into the correct folders
Keep the front office as well as the lobby area clean and tidy
Must be a team player and a fast learner
If interested please contact Evette Brewer at:
Office: 913-334-2880
Cell: 971-226-6960 (please leave a voicemail if no answer)
Email: ebrewer@legendsobgyn.com
Bilingual Part-Time Certified Medical Assistant
Legends OB/GYN is currently searching for an energetic, self-motivated and friendly bilingual medical assistant to join our team.  Task include rooming patients, obtaining vitals (blood pressures, temperature, height and weight) and assisting the doctor with procedures.
Job Duties Required:
Must be willing to cross-train in front office tasks
Computer skills required
Must be a team player with a positive attitude
If interested please contact Evette Brewer at:
Office: 913-334-2880
Cell: 971-226-6960 (please leave a voicemail if no answer)
Email: ebrewer@legendsobgyn.com