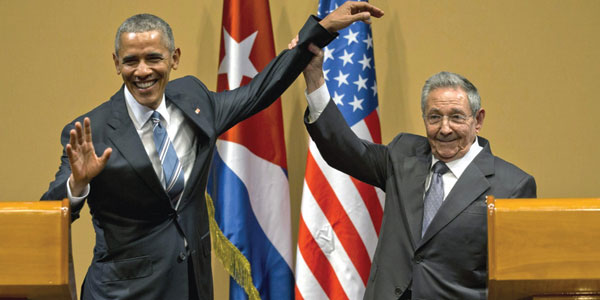 Los líderes ya se conocían de antes. Pero esta vez fue un encuentro diferente, este fue un gran evento simbólico.
Por primera vez en 88 años un Presidente norteamericano se reúne con un jefe de Estado de Cuba en la isla caribeña.
A pesar de las diferencias ideológicas, el presidente Barack Obama fue recibido oficialmente por el presidente cubano Raúl Castro el lunes (Marzo 21) en La Habana para discutir asuntos importantes. Después de la reunión privada, los dos Presidentes participaron de una conferencia de prensa en donde Castro, por primera vez, respondió preguntas de reporteros estadunidenses.
Cuando le preguntaron sobre el futuro de Cuba, Castro contestó "El futuro de Cuba debe ser decidido por los cubanos y nadie más." El cubano reiteró su petición de que se destrabe la relación económica entre Cuba y Estados Unidos, a lo cual Obama aseguró que el embargo en contra de Cuba se elevará.
Luego de la aparentemente exitosa reunión privada y la pacífica conferencia de prensa, Obama y empresarios americanos se reunieron con empresarios cubanos para discutir oportunidades de negocios entre los dos países. En la noche, la familia Obama y los representantes estadounidenses fueron invitados a una elegante gala con las autoridades cubanas, empresarios, y otros líderes.
Este evento simbólico representa el comienzo de una nueva era – una era más amigable y pacífica entre los pises de Cuba y Estados Unidos.
________________________________________________________________________________________________________
Obama in Cuba: The beginning of new relationship
Commentary by Dermidio Juez-Perez
The leaders had seen each other before. But this time, it was a ground-breaking, symbolic event.
This was the first time in 88 years that a U.S. president had met with Cuba's head of state on the Caribbean island.  
Despite differing ideologies, U.S. President Barack Obama was officially received by Cuban President Raul Castro on Monday (March 21) in Havana to discuss many issues. After their behind-closed-doors meeting, the leaders participated in a press conference. For the first time, Castro answered questions asked by U.S. reporters.
When asked about Cuba's future, Castro stated, "The future of Cuba has to be decided by the Cuban people and no one else." He also reiterated his petition to the United States to unblock the relationships between the countries. Obama assured the press that the United States would lift its embargo against Cuba.
After the apparently successful private discussion and the peaceful press conference, Obama and American businessmen accompanying him moved on to meet with Cuban businessmen to discuss potential business relationships between the countries. That evening, the Obama family and all the representatives of the United States were invited to an elegant dinner with Cuban authorities, business people and other leaders.
 This ground-breaking, symbolic meeting represents the beginning of new era – an era of a friendlier, more peaceful relationship between Cuba and the United States.