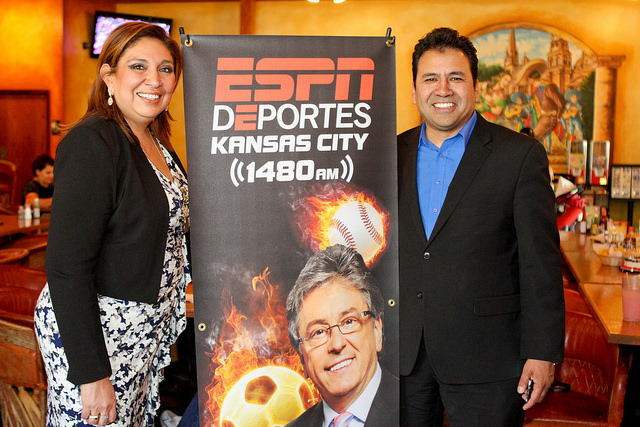 ESPN Deportes and Reyes Media Group and the Hispanic Chamber of Commerce of Greater Kansas City  celebrated the launching of ESPN Deportes KCZZ 1480 AM.
Special Guests included,  Jim Roberts, Senior Director from ESPN Deportes in New York and Chamber Executive Director Carlos Gomez
ESPN Deportes Radio, the only around-the-clock 24/7 national Spanish-language radio network in the U.S., launched in the Kansas City Area as ESPN Deportes KCZZ 1480 AM on March 28, 2016.
"We are excited to welcome ESPN Deportes Radio to our multimedia platform. Reyes Media Group is excited to bring our listenership a quality sports programming 24/7 on KCZZ 1480 AM!", said Diana Reyes Raymer, General Manager of KCZZ 1480 AM. Ms. Reyes Raymer oversees all RMG media properties in the Kansas City Area.
"The launch of ESPN Deportes Radio in Kansas City offers our local community the latest in sports news and information, and provides advertisers and marketers a unique opportunity to reach Hispanics in these communities".
"ESPN Deportes is committed to continue expanding its offerings to U.S. Hispanic sports fans across the U.S., and the new KCZZ is a result of these efforts," said Jim Roberts, senior director of business integrations for ESPN Deportes."
"We are thrilled to bring Kansas City radio listeners the best of sports news, events and commentary that are relevant and in their preferred language, while providing a unique opportunity for advertisers to reach the local Hispanic sports fans."
Don't forget to share our link with your friends on Facebook and follow us on Instagram

[FAGP id=48672]