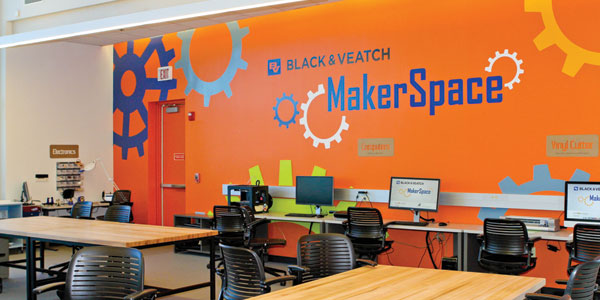 El día 14 de abril, la Cámara de Comercio Hispana de Kansas City y la Biblioteca del Condado de Johnson celebraron un desayuno y un recorrido por sus recién reaperturadas instalaciones, con el fin de apoyar a los pequeños negocios  con una gran diversidad de servicios, tales como: libros de negocios, planes sencillos de negocios, información de creación y arranque de nuevos negocios, demostración de bases de datos con información de tendencias de la industria, además de una impresora 3D, un estudio de grabación y un cortador láser promocionados por Black & Veatch MakerSpace.
---
Hispanic Chamber of Commerce Power Breakfast
By Juan AM.
On April 14th, the Hispanic Chamber of Commerce of Kansas City along with the Johnson County Library hosted a breakfast and tour through their recently renovated facilities. The purpose of the renovations are to highlight and give support to small businesses with an upgrade of services and information such as: business books, simple business plans, information about creation and business start-ups, provide data base sites with cutting edge information about the latest industry tendencies and trends. Also, current hardware, including a 3D printer, recording studio and a laser cutter provided by Black & Veatch MakerSpace is available for viewing.