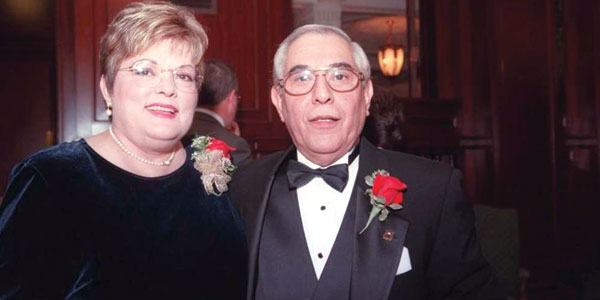 Manuel J. "Manny" López, propietario de Manny's Mexican Restaurant en Southwest  Boulevard, murió el 29 de abril en su casa.
López, de 77 años, estaba rodeado por su familia y amigos.
En un comunicado dado a conocer en línea, la familia López expresó su agradecimiento para "nuestros amigos, clientes y toda la comunidad de Kansas City por sus pensamientos y oraciones.
Las muestras de apoyo han sido una enorme sorpresa y han ayudado a nuestra familia en este momento difícil ".
La familia cerró el restaurante el miércoles (4 de mayo) para llevar a cabo los servicios funerarios. Está proyectado volver a abrir para el Cinco de Mayo – el día festivo favorito de López y un día que se espera será muy ocupado para el restaurante.
López era conocido por su carisma, personalidad optimista y la cálida bienvenida que extendió a todos los clientes que visitaron su restaurante. Muchos fans expresaron su amor y apoyo a la familia López a través de medios de comunicación social, recordando tiempos especiales pasados ​​en el restaurante y conociendo a López personalmente.
"Desde los días en que Manny trabajó en Westport One hasta el inicio de su propio restaurante, nunca olvidaré su suave bondad," dijo Andy Huggins, un cliente fiel del restaurante. "Siempre hacía a todos sentirse bien y bienvenidos. Él será recordado por mucho tiempo, pero cualquier persona que lo conocía tendrá nada más que un gran recuerdo de un hombre que era amigo de todos los que conocía".
López también era conocido por su participación activa en la comunidad latina como uno de los fundadores de la Cámara de Comercio Hispana de Kansas City y por su participación en varias organizaciones benéficas.
Nota del editor: El personal Dos Mundos envía sus condolencias a la familia López.
___________________________________________________________________________________________________________________
KC restauranteur Manny Lopez dies
By Melissa Arroyo
Manuel J. "Manny" Lopez, a longtime Kansas City area restauranteur and owner of Manny's Mexican Restaurant on Southwest Boulevard, died on April 29 at home.
Lopez, 77, was surrounded by his family and friends.
In a statement released online, the Lopez family expressed its gratitude for "our friends, patrons and the entire Kansas City community for your thoughts and prayers. The outpouring of support has been a tremendous surprise and has helped our family in this difficult time."
The family closed the restaurant on Wednesday (May 4) to carry out the funeral services. It's scheduled to reopen for Cinco de Mayo — Lopez's favorite holiday and a day that's expected to be a busy one for the restaurant.
Lopez was known for his charisma, upbeat personality and the warm welcome he extended to every customer who visited his restaurant. Many fans expressed their love and support to the Lopez family via social media, remembering special times spent at Manny's restaurant and meeting Lopez personally.
"From the days Manny worked at Westport One to starting his own restaurant, I will never forget his gentle kindness," said Andy Huggins, a loyal customer of the restaurant. "He always made you feel good and welcome. He will be missed greatly, but anyone that knew him will have nothing but great memories of a man that was friends with everyone he met."
Lopez also was known for his active participation in the Latino community as one of the founders of the Hispanic Chamber of Commerce of Greater Kansas City and for his involvement with several charities.
Editor's note: The Dos Mundos staff sends its condolences to the Lopez family.