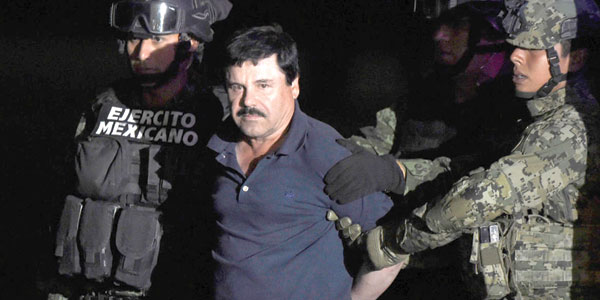 El lunes 9 de mayo, un juez mexicano ordenó que Joaquín Guzmán Loera "alias "El Chapo" -fuera extraditado de México a Estados Unidos para enfrentar cargos criminales.
De acuerdo con diferentes medios de comunicación, Guzmán Loera enfrenta múltiples cargos, incluyendo lavado de dinero, tráfico de drogas, secuestro y asesinato en varias ciudades.
Un juez mexicano declaró que la extradición del capo tomaría lugar a mediados del 2016. Aunque la decisión final de la extradición depende del presidente Enrique Peña Nieto, el ministro mexicano de Asuntos Exteriores anunció que respondería a la petición de extradición en 20 días.
La presidencia mexicana no ha hecho comentarios sobre la aprobación del juez, pero Peña Nieto declaró en meses recientes que el gobierno mexicano trabajará con el gobierno de Estados Unidos con respecto al proceso de extradición.
La decisión de la extradición sigue la reciente transferencia de Guzmán Loera desde la prisión de El Altiplano en el Estado de México hacia una prisión de máxima seguridad en Ciudad Juárez, Chihuahua. De acuerdo con las autoridades mexicanas, la transferencia se hizo por razones de seguridad.
Los abogados de Guzmán Loera ya han entregado varias apelaciones para evitar que "El Chapo" sea transferido a otra prisión.
"El Chapo" se ha escapado de las autoridades mexicanas dos veces. La última en julio del 2015. Después de su escape, el gobierno mexicano intensificó sus esfuerzos y lo volvió a capturar.
____________________________________________________________________________________________________________________
Mexican judge approves "El Chapo's" extradition
By Chara
On Monday (May 9), a Mexican judge ruled that Joaquin Guzman Loera – a.k.a., "El Chapo" – could be extradited from Mexico to the United States to face criminal charges.
According to various media outlets, Guzman Loera faces multiple charges, including money laundering, drug trafficking, kidnapping and murder in several cities.
A Mexican judge stated the drug lord's extradition would take place by mid-2016. Although the final extradition decision falls on President Enrique Pena Nieto (Peña Nieto in Spanish), the Mexican Ministry of Foreign Affairs announced it would respond to the extradition petition within 20 days.
The Mexican presidency hasn't commented on the judge's approval, but Pena Nieto has stated in recent months that the Mexican government will work with the U.S. government regarding the extradition process.
The extradition decision follows Guzman Loera's recent transfer from El Altiplano prison in the state of Mexico to a maximum security prison in Ciudad Juarez, Chihuahua. According to Mexican authorities, the transfer was done for security reasons.
Guzman Loera's lawyers have already filed several appeals to prevent "El Chapo" from being transferred to another prison.
"El Chapo" has escaped Mexican authorities twice. The last one took place in July 2015. After his escape, the Mexican government intensified its efforts and recaptured him.