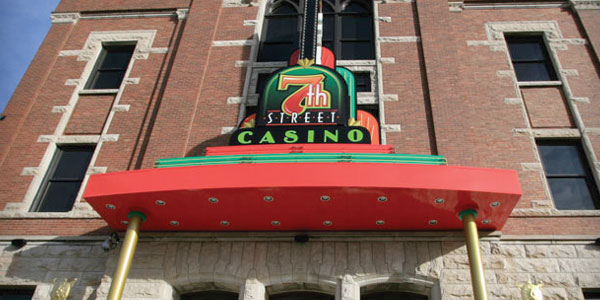 El 7th Street Casino, ubicado en 777 N. Seventh St. Trafficway en Kansas City, Kan., Está pasando por una fase de renovación, junto con la actualización en el área del centro de Kansas City, Kansas.
La actualización incluye una avenida Minnesota remodelada para mejorar la imagen general de la zona y mejorar la experiencia del público.
La más reciente renovación del casino se completó en abril. La renovación exterior se completará en junio.
"Es la primera renovación que hemos tenido desde que abrimos en el 2008", dijo Jerrell Royal, gerente de marketing del casino. "Pensamos que era hora de volver a introducir nuestro casino al mercado de Kansas City y … (brindar) una mejor experiencia para el cliente. Aquellos que nos visitaron el año pasado y regresan este año, nos ven como un casino completamente diferente ".
Operado por miembros de la tribu de Wyandotte de Oklahoma, el casino se encuentra en un proceso de renovación de piso a piso. Las renovaciones incluyen nuevo piso, nuevas máquinas, baños remodelados y una cafetería remodelada, así como sus bares, con nuevos platillos agregados al menú. La remodelación incluye también un nuevo letrero para reflejar una "imagen enérgica para el casino", según Royal.
Royal dijo que los clientes han tenido una reacción positiva al proceso de remodelación.
"Cuando abrimos el tercer piso durante el Año Nuevo por primera vez al público, la cantidad de respuestas positivas fue notable," dijo Royal. "Lo que hemos hecho es que hemos modernizado el casino de modo que el aspecto y la sensación es más contemporáneo de lo que se vería en otro casino típico de hoy en día, ya sea en Kansas City o Las Vegas."
El casino también está celebrando su nuevo proyecto de remodelación a lo largo de mayo, invitando a los clientes a participar en su concurso Celebración de Renovación de $25,000 por premios en efectivo todos los lunes. Los nuevos miembros también recibirán $10 para utilizar en las máquinas.
Para obtener más información sobre el casino y la celebración de su remodelación, visite www.7th-streetcasino.com.
---
Casino celebrates renovation project
By Melissa Arroyo
The 7th Street Casino, located at 777 N. Seventh St. Trafficway in Kansas City, Kan., is undergoing a renovation project, along with the widespread renovation taking place in the downtown KCK area.
The renovation includes a remodeled Minnesota avenue to improve the overall image of the area and enhance the public's experience.
The casino's most recent major renovation was completed in April. Its exterior renovation will be completed in June.
"It's the first renovation that we've had since we opened in 2008," said Jerrell Royal, casino marketing manager. "We thought that it was time for us to reintroduce our casino to the Kansas City market and … (make) it a better experience for the customer. If people came in last year and come in to us this year, we look like a completely different casino."
Owned and operated by members of the Wyandotte tribe from Oklahoma, the casino is undergoing a floor-to-floor renovation process. The renovations include new flooring, new machines, remodeled bathrooms and a remodeled café, as well as its bars, with new menu items being added. The remodeling also includes a new marquee sign to reflect a "bold image for the casino," according to Royal. 
Royal said the customers have had a positive reaction to the remodeling process. 
"When we opened up the third floor during New Year's for the first time to the public, the amount of positive responses was remarkable," Royal said. "What we've done is that we've modernized the casino so that the look and feel is more contemporary to what you would see in another typical casino today, whether in Kansas City or Las Vegas."
The casino also is celebrating its new remodeling project throughout May by inviting customers to participate in its $25,000 Renovation Celebration contest for cash prizes every Monday. New members also will get $10 for free to use at the slots. 
For more information about the casino and its remodeling celebration, visit www.7th-streetcasino.com.