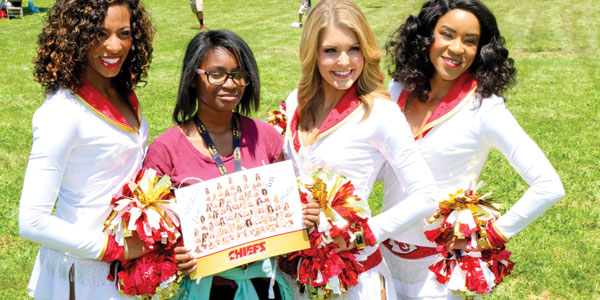 En mayo 21, los residentes del código postal 66106 de Kansas City, Kan. salen con fuerza para la tercera edición de Familia 101: 5K Caminar/Correr/Pasear en bicicleta y Feria de Salud de la Comunidad y Fiesta en la Cuadra.
Celebrada en Walker Street entre New Bethel Church y Jersey Creek Park, el evento se inició con un 5K correr, caminar o en bicicleta de la mañana. Esto fue seguido de una tarde de festividades de feria de salud, incluido el fútbol, baloncesto, música, baile y comida. Junto con las festividades eran los puestos de exposición de múltiples organizaciones de salud, incluido el Community Health Council of Wyandotte County, Kan; Enroll Wyandotte; y Susan G. Komen.
El New Bethel Church Community Development Corp. desarrolla el evento gratuito para promover tanto salud y un sentimiento de comunidad.
"Queremos promover la unión de la comunidad," dijo Broderick Crawford, el director ejecutivo de la corporación.
Para poder hacer que haya un cambio, "tendremos que hacerlo nosotros mismos", dijo Crawford.
Martez Gardner, director del Ministerio de Deportes de la corporación, dijo que el nombre de la Familia 101 se deriva de dos fuentes. El primero fue los últimos tres dígitos del código postal de la comunidad. La segunda era el uso común del número 101 para significar cursos de introducción a la universidad. Gardner que espera que el evento sirva como una introducción y bases para la construcción de una comunidad más fuerte.
"Estamos tratando de traerlo (construcción de la comunidad) de vuelta a los fundamentos," dijo Gardner.
---
KCK residents out in force for community event
By Nick Moreno
On May 21, residents of Kansas City, Kan.'s 66101 ZIP code were out in force for the third annual Family 101:5K Walk/Run/Bike Ride and Community Block Party & Health Fair.
Held on Walker Street between New Bethel Church and Jersey Creek Park, the event kicked off with a morning 5K run, walk or bike ride along the Jersey Creek Trail. That was followed by an afternoon of block party festivities, including soccer, basketball, music, dancing and food. Along with the festivities were the display booths of multiple health-related organizations, including the Community Health Council of Wyandotte County, Kan.; Enroll Wyandotte!; and Susan G. Komen.
The New Bethel Church Community Development Corp. staged the free event to promote both health and a sense of community.
"We want to promote community togetherness," said Broderick Crawford, the corporation's executive director.
In order for there to be change, "we have to do it for ourselves," Crawford said.
Martez Gardner, the corporation's director of sports ministry, said the Family 101 portion of the event name came from two sources. The first was the last three digits of the community's ZIP code. The second was the common use of the number 101 to signify introductory college courses. Gardner hopes the event will serve as an introduction and a foundation for building a stronger community.
"We are trying to bring it (community building) back to the basics," Gardner said.