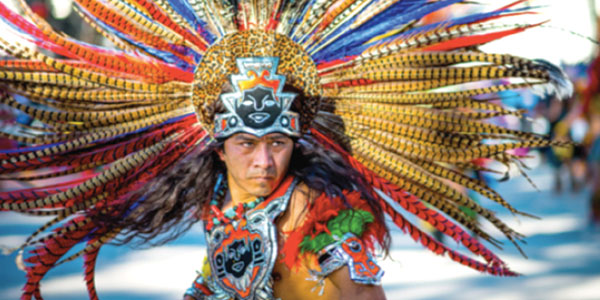 Un propuesto libro acerca de la cultura chicana llamado "Mexican-American Heritage" que llevaba mucho tiempo siendo exigido a la Junta de Educación de Texas por activistas y académicos, es objeto de escrutinio por contener información falsa acerca de los chicanos, el movimiento de derechos civiles y el estado actual de su existencia como miembros de la sociedad estadounidense.
"Es un libro de texto racista," Tony Díaz, profesor de Texas que ayudó a impulsar una mayor inclusión de los estudios chicanos en el plan de estudios del estado, dijo recientemente a el Huffington Post. "No estoy seguro de lo que es más insultante – la forma en que hablan de los chicanos, la historia que omiten o la forma en que hablan de los chicanos."
Según oponentes del libro de texto, que con frecuencia muestra fuerte sesgo en contra de la cultura y degrada los chicanos, describiéndolos como un grupo que "adoptó una narrativa revolucionaria que se oponía a la civilización occidental y quería destruir esta sociedad."
Los autores también describen el movimiento de derechos civiles chicanos como "preocupante" y mencionaron que el "orgullo mexicano al costo de la cultura americana no parece productivo".
Además, los autores discuten la inmigración ilegal en varias páginas, etiquetando a los inmigrantes indocumentados como "ilegales" y declarando que la inmigración ilegal moderna ha "causado una serie de problemas económicos y de seguridad en los Estados Unidos," incluyendo "la pobreza, la falta de asimilación, las drogas , el crimen y la explotación ".
De acuerdo con la Agencia de Educación de Texas, el libro de texto podría terminar en la lista de materiales recomendados por el estado para el año escolar 2017-18; pero en primer lugar, tiene que pasar por un período de comentarios públicos y ser aprobado por los funcionarios de educación del estado en noviembre. A pesar de que el libro de texto seguiría siendo opcional si se aprueba, los activistas están preocupados de que podría servir como una poderosa fuente de información errónea en algunas aulas.
---
Proposed Mexican heritage textbook draws strong criticism from Mexican-Americans
By Melissa Arroyo
"Mexican American Heritage," a proposed Mexican-American Heritage textbook that had long been demanded from the Texas Board of Education by activists and scholars, is under scrutiny for reportedly containing false information about Mexican-Americans, the Civil Rights Movement and the current state of their existence as members of U.S. society.
"It's a racist textbook," Tony Diaz, a Texas professor who helped push for greater inclusion of Mexican-American studies in the state's curriculum, recently told the Huffington Post. "I'm not sure what's more insulting — the way they talk about Mexican-Americans, the history they omit or the way they talk about Chicanos."
According to opponents of the textbook, it frequently shows strong bias against the culture and degrades Chicanos by describing them as a group that "adopted a revolutionary narrative that opposed Western civilization and wanted to destroy this society."
The authors also describe the Chicano Civil Rights Movement as "concerning" and state that "Mexican pride at the expense of American culture did not seem productive."
In addition, the authors discuss illegal immigration on several pages, labeling undocumented immigrants as "illegals" and state that modern illegal immigration has "caused a number of economic and security problems in the United States," including "poverty, non-assimilation, drugs, crime and exploitation."
According to the Texas Education Agency, the textbook could end up on the state's recommended materials list for the 2017-18 school year; but first, it must go through a public comment period and be approved by state education officials in November. Although the textbook would still be optional if approved, activists are concerned that it might serve as a powerful source of misinformation in some classrooms.