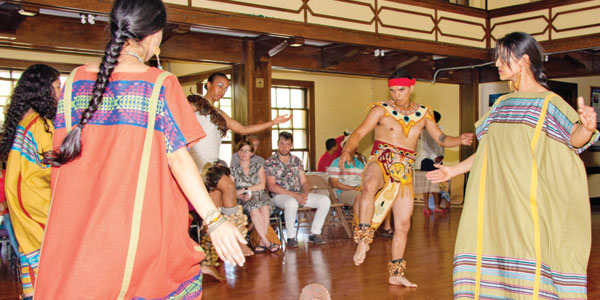 El domingo (12 de junio), miembros de la comunidad se reunieron en la Iglesia Luterana de St. Mark's en Kansas City, Mo., para mostrar apoyo y ayudar a recaudar fondos para "Somos el paisaje" ("We Are the Landscape en Inglés). Este musical Latinoamericano fue compuesto por músico del área y nativo de Bolivia Amado Espinoza junto con varios participantes.
La obra consiste en su mayoría con canciones originales tocados con instrumentos de viento y percusión nativos de diferentes países de América Latina, "Somos el paisaje" es una obra que combina la danza, la poesía y la música de varias culturas para celebrar la humanidad y nuestras raíces, comentó Espinoza. El musical también incluirá inspiración de Filipinas, el país natal de bailarina y artista Karen Lisondra.
"Este musical es un proyecto integral de nuestros viajes personales y lo que conocemos," dijo Lisondra. "Durante los ensayos, hacemos una gran cantidad de investigación y descubrimiento de nuestras propias culturas."
Durante la recaudación de fondos, Espinoza interpretó composiciones originales acompañado por Lisondra y varios músicos y artistas de América Latina, entre ellos Darío Rugerio.
"A través de nuestra música, queremos traer conciencia de uno mismo a través de la exploración de nuestro cultura", dijo Rugerio. "Como inmigrantes, a menudo olvidamos nuestras raíces. Y creemos que es importante compartir esta música para volver a conectarnos con (la cultura) que dejamos atrás."
"Somos el paisaje" recibió un premio monetario de la organización ArtsKC para ayudar con la expansión de la colección de instrumentos para la obra y para ayudar a cubrir los costos generales de producción. Se espera que el debut del musical sea en noviembre.
Para obtener más información sobre el musical, contacte a Espinoza en amadoespinoza@gmail.com o visite www.amadoespinoza.com.
---
Area musicians host fund-raiser for upcoming musical
By Melissa Arroyo
On Sunday (June 12), community members gathered at St. Mark's Lutheran Church in Kansas City, Mo., to show support and help raise funds for "We Are the Landscape," a Latin American musical composed by Kansas City area musician and Bolivian native Amado Espinoza, along with several participating musicians.
Consisting of mostly original songs played with native wind and percussion instruments from various Latin American countries, "We Are the Landscape" is a work in progress designed to combine dance, poetry and music from various cultures to celebrate humankind and heritage, according to Espinoza. The musical also will include inspiration from musician and dancer Karen Lisondra's Filipino heritage.
"This musical is a holistic project from our personal journeys and what we know," Lisondra said. "During rehearsal, we do a lot of investigation and discovery of our own cultures."
During the fund-raiser, Espinosa played several original compositions accompanied by Lisondra and several musicians and performers from Latin America, including Dario Rugerio.
"Through our music, we want to bring self-awareness through the exploration of our heritage," Rugerio said. "As immigrants, we often forget our roots – and we believe it's important to share this music to reconnect with (the culture) that we left behind."
"We Are the Landscape" has received an inspiration grant from ArtsKC to help with expanding the collection of instruments for the musical and to help cover the overall production costs. The musical is expected to make its debut in November.
To learn more about the musical, contact Espinoza at amadoespinoza@gmail.com or visit www.amadoespinoza.com.