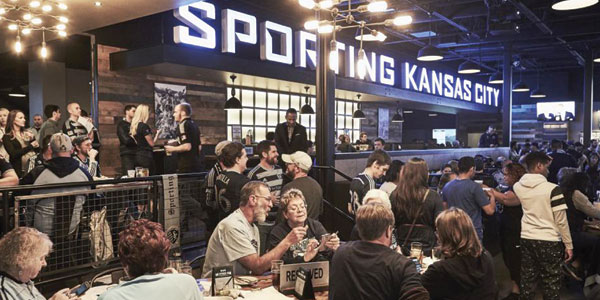 El domingo 26 de junio, los fans de soccer de Kansas City podrán compartir su pasión por "la belleza del juego" con Reyes Media Group durante una fiesta especial para ver el juego final de la Copa América.
Gratis y abierta para el público, la fiesta empezará a las 5 p.m. en el Power and Light District de Kansas City, Missouri. Aunque las familias son bienvenidas, cualquier persona menor de 21 años debe ir acompañada de un adulto.
"Realmente queremos darle a la comunidad una variedad y no tener eventos en el mismo lugar", dijo Diana Reyes, directora de Reyes Media Group. "Sentimos que el final de la Copa América es perfecto para el Power and Light District. Queremos que los espectadores se diviertan – y al mismo tiempo, queremos apoyar a nuestros socios".
Hasta el momento de prensa, el único equipo que estaba confirmado para el juego final era Argentina. Argentina derrotó a Estados Unidos 4-0 el martes por la noche (21 de junio) en el estadio NRG de Houston. Colombia y Chile estarían jugando el miércoles 22 de junio por la noche en Soldier Field en Chicago para determinar el otro finalista.
Esta es la tercera vez consecutiva que Argentina ha llegado a la final de la Copa América. Una victoria de Chile establecería una revancha de la última final de la Copa América, en la cual ganó Chile.
_________________________________________________________________________________________________________
RMG to host Copa America watch party
By Chara
On Sunday (June 26), Kansas City area soccer fans may share their passion for "the beautiful game" with Reyes Media Group during a special Copa America final match watch party.
Free and open to the public, the party will begin at 5 p.m. in Kansas City, Mo.'s Power and Light District. Although families are welcome to attend, anyone under 21 years old must be accompanied by an adult.
"We really want to give the community a variety and not hold events at the same place," said Diana Reyes, Reyes Media Group director. "We feel like the Copa America final is a perfect fit with the Power and Light District. We want them (spectators) to have a fun time – and at the same time, we want to support our partners."
At press time, the only team that was confirmed for the final match was Argentina. Argentina defeated the United States 4-0 on Tuesday night (June 21) at Houston's NRG Stadium. Colombia and Chile were playing Wednesday night (June 22) at Soldier Field in Chicago to determine the other finalist.
This is the third consecutive time Argentina has reached the Copa America final. A Chilean victory would set up a rematch of the last Copa America final, which Chile won.