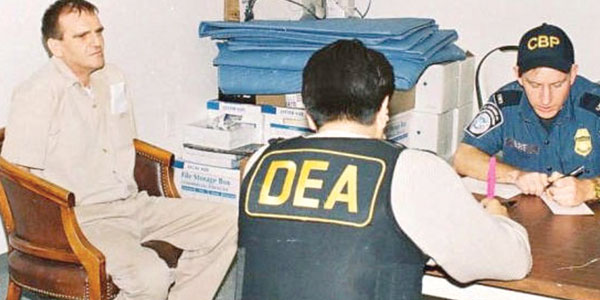 El gobierno de Estados Unidos ha completado el proceso de extraditar de Estados Unidos hacia México al narcotraficante Héctor "El Güero" Palma Salazar.
Palmas Salazar, quien ha estado asociado con el narcotraficante Joaquín Guzmán Loera (alias "El Chapo") es conocido como el miembro fundador del cartel de Sinaloa.
El Depto. De Inmigración y Aduanas de Estados Unidos anunció que "El Güero" fue entregado a las autoridades mexicanas después de servir casi 10 años en una prisión de Estados Unidos. Después de llegar a México, fue encarcelado en El Altiplano, una prisión en el Estado de México.
Palma Salazar fue arrestado en 1995 en México. Las autoridades mexicanas lo extraditaron de México a Estados Unidos donde se declaró culpable a las acusaciones de tráfico de cocaína. Sentenciado a 16 años en prisión, fue liberado por buena conducta.
De acuerdo con diferentes reportes de medios de comunicación, Palma Salazar enfrentará acusaciones por asesinato en México, sin embargo, las autoridades mexicanas no lo han confirmado; ni tampoco han entregado ninguna información respecto a la sentencia pendiente de Palma Salazar.
En otras noticias relacionadas, se ha iniciado el proceso de extradición de "El Chapo" de México a Estados Unidos. Sigue sin conocerse cuándo se finalizará el proceso, ya que sus abogados han entregado varias apelaciones.
---
Drug lord extradited from United States to Mexico
By Chara
The U.S. government has completed the process of extraditing drug lord Hector "El Guero" Palma Salazar from the United States to Mexico.
Palma Salazar, who has been associated with drug lord Joaquin Guzman Loera (a.k.a., "El Chapo"), is known as a founding member of the Sinaloa drug cartel.
U.S. Immigration and Customs Enforcement announced that "El Guero" was handed over to Mexican authorities after serving almost 10 years in a U.S. prison. After arriving in Mexico, he was locked up in El Altiplano, a prison in the state of Mexico.
Palma Salazar was arrested in 1995 in Mexico. Mexican authorities extradited him from Mexico to the United States, where he pleaded guilty to cocaine trafficking charges. Sentenced to 16 years in prison, he was released for good conduct.
According to various media reports, Palma Salazar will face murder charges in Mexico; however, Mexican authorities haven't confirmed that. Nor have they released any information regarding Palma Salazar's pending sentence.
In related news, the process of extraditing "El Chapo" from Mexico to the United States has begun. It remains unknown when the process will be finalized, as his lawyers have filed several appeals.