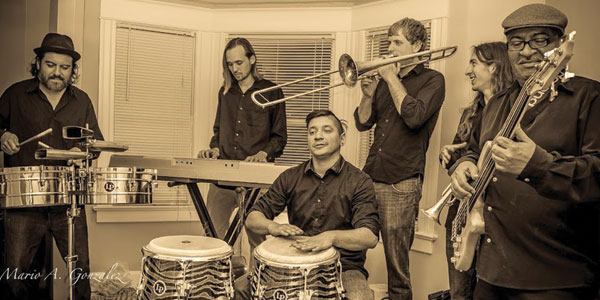 El martes (21 de junio), la Biblioteca Pública de Olathe (Kan.)  presentó una noche de jazz realizado por la Calle Vida, una banda que ha desempeñado su marca única de jazz latino en el área de Kansas City durante los últimos 13 años.
"Antes de que comenzara la banda, no había una banda (local) que incorpora la música latina con el jazz," dijo el líder de la banda y chileno Pablo Sanhueza. "Hemos sido los pioneros del jazz latino en Kansas City".
Calle Vida se compone de músicos latinos que incorporan diversos ritmos latinos de inspiración afro con el jazz para reflejar la gran mezcla de la cultura latina a su diversa audiencia, de acuerdo con Sanhueza.
"Dentro de la comunidad latina sólo, hay una mezcla de diversas culturas, que se refleja en nuestros alimentos … (y) nuestras tradiciones e incluso nuestro humor", dijo. "Al contar con miembros de la banda de diferentes partes de América Latina, nos da a nosotros y nuestro público la oportunidad de aprender sobre nuestra cultura."
Con su música, Calle Vida quiere motivar a otros jóvenes latinos a tomar un interés en tocar un instrumento y explorar su cultura a través de él, dijo Sanhueza. Los músicos en el grupo están llevando a cabo talleres de música en el área de forma continua y están animando a otros a conocerlos en persona en sus conciertos para obtener experiencia práctica y aprender más acerca de los talleres.
Sanhueza dijo que la banda hará varias apariciones durante todo el año, incluyendo la noche de apertura de la celebración de la Herencia Hispana este otoño en el Museo de Arte Nelson-Atkins.
Para obtener más información sobre Calle Vida, visite su página de Facebook en www.facebook.com/Calle-Vida-198976413805227/.
________________________________________________________________________________________________________
Calle Vida serving up unique take on Latin music
By Melissa Arroyo
On Tuesday (June 21), the Olathe (Kan.) Public Library presented a night of jazz performed by Calle Vida, a band that has played its unique brand of Latin jazz in the Kansas City area for the past 13 years.
"Before I started the band, there wasn't a (local) band that incorporated Latin music with jazz," Chilean native and band leader Pablo Sanhueza said. "We've been the pioneers of Latin jazz in Kansas City."
Calle Vida consists of Latino musicians who incorporate various Afro-inspired Latin rhythms with jazz to reflect the grand mix of Latino culture to their diverse audience, according to Sanhueza.
"Within the Latino community alone, there is a mixture of various cultures, reflected in our food … (and) our traditions and even our humor," he said. "By having band members from different parts of Latin America, it gives us and our audience an opportunity to learn about each other's cultures."
With its music, Calle Vida wants to motivate other young Latinos to take an interest in playing an instrument and explore their culture through it, Sanhueza said. The musicians in the group are doing so by hosting area music workshops on an ongoing basis and are encouraging others to meet them in person at their shows to get hands-on experience and learn more about the workshops.
Sanhueza said the band will make several appearances throughout the year, including the opening night of the Hispanic Heritage celebration this fall at the Nelson-Atkins Museum of Art.
To learn more about Calle Vida, visit its Facebook page at www.facebook.com/Calle-Vida-198976413805227/.