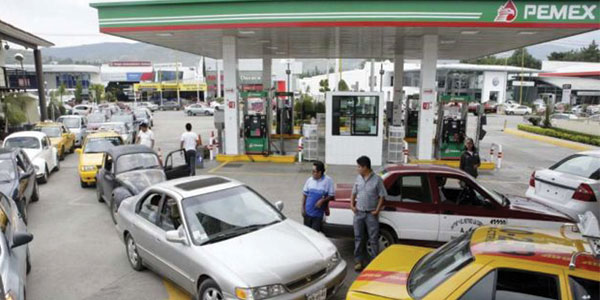 La repentina escasez de gas en todo el estado de Chihuahua dejó recientemente varios conductores cruzando las fronteras estatales y nacionales para llenar sus tanques de gas, causando esperas de hasta tres horas para utilizar bombas de gasolina.
La escasez de gasolina comenzó a principios de junio, cuando el cierre de una importante cadena de estación de servicio que suministra a casi el 30 por ciento de la ciudad de Chihuahua provocó el pánico en el estado. Normalmente, las estaciones de servicio venden 500.000 galones por día; sin embargo, la repentina demanda superó el millón de galones por día. PEMEX, el proveedor de gasolina para estaciones de servicio en México, no podía satisfacer la demanda de las últimas semanas debido a la insuficiencia de tuberías y el combustible suministrado en cantidades bajas.
Varios problemas surgieron a partir de las compras por el pánico. Los conductores bloquearon los vehículos de mayor prioridad de abastecimiento de combustible, tales como ambulancias y vehículos de policias. Los conductores también viajaron a las ciudades próximas a otros estados y a través de la frontera para llenar sus tanques. Muchas de las ciudades no estaban preparadas.
De acuerdo con un informe de Fusion, los conductores viajaron a Presidio, Texas, un pueblo de 6.000 personas, con sólo tres estaciones de servicio disponibles, donde el suministro de combustible de 1.000 litros en una de las estaciones se agotó en casi dos horas.
Los medios de comunicación locales informaron que el suministro de combustible volvería a la normalidad el 24 de junio, pero algunas estaciones todavía están a la espera para que el negocio se estabilice. Mientras que PEMEX está tratando de responder a la demanda, oficiales aconsejan a los ciudadanos a reducir su consumo para permitir el suministro regular gradualmente.
________________________________________________________________________________________________________
Panic buying causes gas shortage in Chihuahua
By Melissa Arroyo
A sudden gas shortage across the Mexican state of Chihuahua recently left several drivers crossing state and country borders to fill their gas tanks, causing waits of up to three hours to use gas pumps.
The gas shortage began early in June, when the closure of a major gas station chain that supplies nearly 30 percent of the city of Chihuahua triggered panic buying across the state. Normally, gas stations sell 500,000 gallons per day; however, the sudden demand exceeds 1 million gallons each day. PEMEX, the gas supplier for Mexican gas stations, couldn't meet the demand for the past few weeks because of a pipeline failure and provided fuel in slow quantities.
Several issues surfaced from the panic buying. Drivers blocked higher priority vehicles from fueling, such as ambulances and law enforcement vehicles. Drivers also traveled to nearby towns across state lines and across the border to fill their tanks. Many of the towns were unprepared.
According to a report by Fusion Magazine, drivers traveled to Presidio, Texas, a town of 6,000 people with only three available gas stations, where the fuel supply of 1,000 gallons at one of the stations ran out in nearly two hours.
Local media outlets informed citizens that the fuel supply would return to normal on June 24, but some stations are still waiting for business to stabilize. While PEMEX is trying to meet the demand, officials are advising consumers to reduce their purchases to allow the supply to regulate gradually.