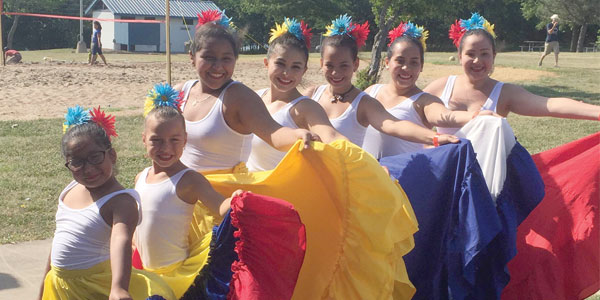 El 25 de junio, la Asociación Venezolana de Kansas City unió a miembros de esa comunidad para un picnic o día de campo.
El picnic se llevó a cabo detrás del complejo de softbol Frank White Jr en el lago Longview, el picnic incluyó música de DJ Rojas y Grupo Equilibrio; una presentación del baile venezolano presentando a niños y miembros de la organización; juegos y comida, provista por cortesía de Empanada Madness. Además de unir a los miembros de la comunidad, el evento se realizó para celebrar el Día de la Independencia Venezolana (que se celebra oficialmente el 5 julio en Venezuela).
"Decidimos hacerlo más casual (el picnic )", dijo el miembro de la asociación Stefany Pérez
Utilizando principalmente fondos propios, el picnic fue el primer evento oficial de la organización desde que se convirtió en una organización no lucrativa a principios de este año. El de 5 julio, la organización tendrá un evento de corte del listón con la Cámara Hispana de Comercio de Kansas City.
"Vamos a hacerlo muy oficial aquí en Kansas City", dijo Pérez.
La organización espera continuar creciendo y uniendo en su totalidad a la comunidad venezolana del área de Kansas City, junto con otras comunidades latinas. La organización espera que ese crecimiento a su vez pueda ayudar a ganar el apoyo de los negocios venezolanos locales.
"Venezuela está en Kansas City", dijo Pérez.
La organización también espera extender su alcance más allá del área de Kansas City, mediante donativos monetarios y proporcionando productos.
"Nuestra meta a largo plazo es definitivamente ayudar a Venezuela", dijo Eva Rodríguez, miembro de la asociación.
---
Picnic brings together Venezuelan community
On June 25, the Venezuelan Association of Kansas City brought together members
of the Venezuelan community for a picnic.
Held behind the Frank White Jr. Softball Complex at Longview Lake, the picnic included music by DJ Rojas and Grupo Equilibrio; a Venezuelan dance performance featuring children and members of the organization; games; and food, provided courtesy of Empanada Madness. In addition to bringing community members together, the event was held to celebrate Venezuelan Independence Day (officially observed on July 5 in Venezuela).
"We decided just to make (the picnic) more casual," association member Stefany Perez said.
Primarily self-funded, the picnic was the organization's first official event since becoming a non-profit organization earlier this year. On July 5, the organization is set to have a ribbon-cutting event with the Hispanic Chamber of Commerce of Greater Kansas City.
"We are going to be making it very official here in Kansas City," Perez said.
The organization hopes to continue to grow and bring together the entirety of the Kansas City area's Venezuelan community, along with other area Latino communities.
The organization hopes that growth, in turn, can help it to gain the support of local Venezuelan businesses.
"Venezuela is in Kansas City," Perez said.
The organization also hopes it can extend its reach beyond the Kansas City area, via monetary donations and providing goods.
"(Our) long-term goal is definitely helping Venezuela," association member Eva Rodriguez said.