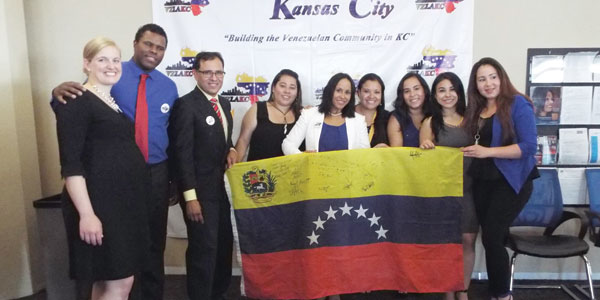 La Asociación Venezolana de Kansas City (VZLAKC) celebró su inauguración formal en las oficinas de la Cámara de Comercio Hispano, el día 5 de Julio del 2016, conmemorando así el aniversario 205 de la Independencia de Venezuela (5 de julio del 1811). En este evento, se contó con la presencia de asociaciones culturales de diferentes países hispanos, así como también invitados especiales que han apoyado esta causa por los dos últimos años contribuyendo en las diferentes actividades que han hecho posible el sueño de formar y legalizar la Asociación Venezolana de Kansas City. En el evento, los invitados disfrutaron de la comida proveída por Empanada Madness, música de DJ Jalapeño y de Kelfel Aquí, así como también una presentación especial del grupo de baile venezolano que nos deleitaron con un popurrí de diferentes ritmos venezolanos.
______________________________________________________________________________________________________
Venezuelan Association of Kansas City holds inauguration ceremony
Photos By Maria Rodriguez
On Tuesday (July 5), the Venezuelan Association of Kansas City celebrated its formal inauguration at the Hispanic Chamber of Commerce of Greater Kansas City offices.
Commemorating the 205th anniversary of Venezuelan Independence Day (July 5, 1811), the event featured food provided by Empanada Madness, music by DJ Jalapeno (Jalapeño in Spanish) and Kelfel Aqui, and a dance performance. Members of various Hispanic cultural association attended the celebration.