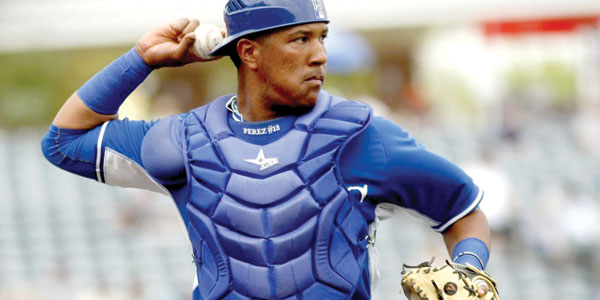 Beloved catcher among four Royals named to AL squad
Kansas City Royals manager Ned Yost has a theory about why Royals catcher Salvador Perez is the top vote recipient for the upcoming Major League Baseball All-Star Game: The native Venezuelan has become "somebody that everybody loves."
"They (fans) love to vote for him," Yost commented during a press conference televised by Fox Sports following the Royals' 8-3 loss Tuesday night (July 5) to Toronto at Toronto's Rogers Centre. "They love his style of play. They love his energy. They love his production. They like the way that he plays the game. And he's easy to vote for."
Perez, who was batting .273 with 12 home runs and 37 RBIs through Tuesday, will make his fourth straight All-Star appearance. He's one of two Royals picked by fans to star for the American League (AL) in the All-Star Game, scheduled for July 12 at Petco Park. Eric Hosmer will represent Kansas City at first base.
Perez and Hosmer are among four Royals named to the AL squad. Reliever Kelvin Herrera, a Dominican Republic native making his second All-Star appearance; and closer Wade Davis were named by managers and fellow players to the AL's pitching staff (managers and players also picked the substitute position players). Through Tuesday, Herrera had pitched in 39 games, posting a 1.40 ERA through 38 2/3 innings.
Davis won't get to play because of a recent forearm injury. The Royals announced Tuesday morning via Twitter that Davis had been placed on their 15-day disabled list "retro to July 1." A replacement for Davis hadn't been named at press time.
The Royals will have a familiar face guiding them during the All-Star Game: Yost, who'll manage the AL squad. During his stint in Kansas City, Yost has led the Royals to back-to-back AL pennants and the 2015 World Series title.